A baby's nursery designed to be gender neutral and adaptable to the changing needs of a growing child. The bold yellows in the rug and tiled fireplace provide a strong graphic contrast to the pretty pale blues, pinks and greens, while mid-century teak pops pleasingly against the blue. Vintage French educational posters in the perfect palette are framed on the walls.

商品名:Popriの家 地中海風 女性がいつまでも美しく生き生きと暮らす住まい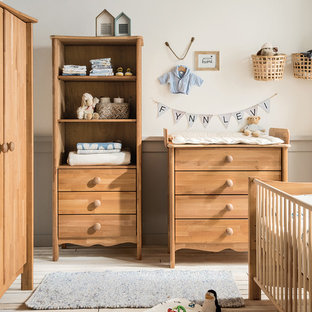 Der kleine Sonnenschein ist auf der Welt und schon häufen sich die Geschenke - Bilderbücher, Stofftiere und Co. - doch wohin mit allem? Regal "Lino" ist ein unentbehrlicher Ordnungs-Helfer! Wähle zwischen verschiedenen Varianten mit und ohne Schubladen. Das Regal ist nicht nur praktisch, sondern sorgt zudem für eine natürliche Umgebung im Kinderzimmer.