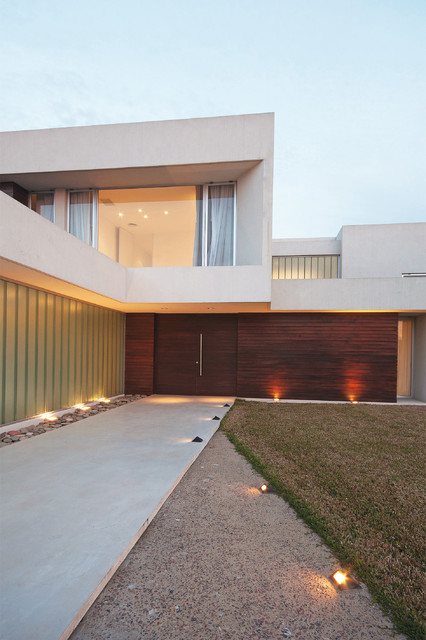 Vanguarda Architects
Pool House (2010)
Project and Works Management

Location Los Castores I, Nordelta, Tigre, Buenos Aires, Argentina
Total Area 457 m²
Photo Luis Abregú


Pool House>
Principal> Arq. Alejandro Amoedo
Lead Designer> Arq. Lucas D'Adamo Baumann
Project Manager> Hernan Montes de Oca
Collaborators> Federico Segretin Sueyro, Luciana Flores, Fausto Cristini

The main condition suggested by the owner for the design of this permanent home was to direct the views to the vast lagoon that is on the rear façade of the land.
To this end, we designed an inverted L layout, withdrawing the access to the house towards the center of the lot, allowing for wider perspectives at the rear of the lot and without limits to the environment.
Aligned on the front façade are the garages, study, toilet and service rooms: laundry, pantry, one bedroom, one bathroom and the barbecue area.
This geometry created a long path towards the entrance of the house, which was designed by combining vehicle and pedestrian access.
The social areas are organized from the access hall around an inner yard that integrates natural light to the different environments. The kitchen, the dining room, the gallery and the sitting room are aligned and overlooking the lagoon. The sitting room has a double height, incorporating the stairs over one of the sides of the inner yard and an in-out swimming pool that is joined to the lake visually and serves as separation from the master suite.
The upper floor is organized around the double-height space, also benefiting from the views of the environment, the inner yard and the garden. Its plan is made up of two full guest suites and a large study prepared for the owners' work, also enjoying the best views of the lagoon, not just from its privileged location in height but also from its sides made of glass towards the exterior and towards the double height of the sitting room.
What Houzz users are commenting on: