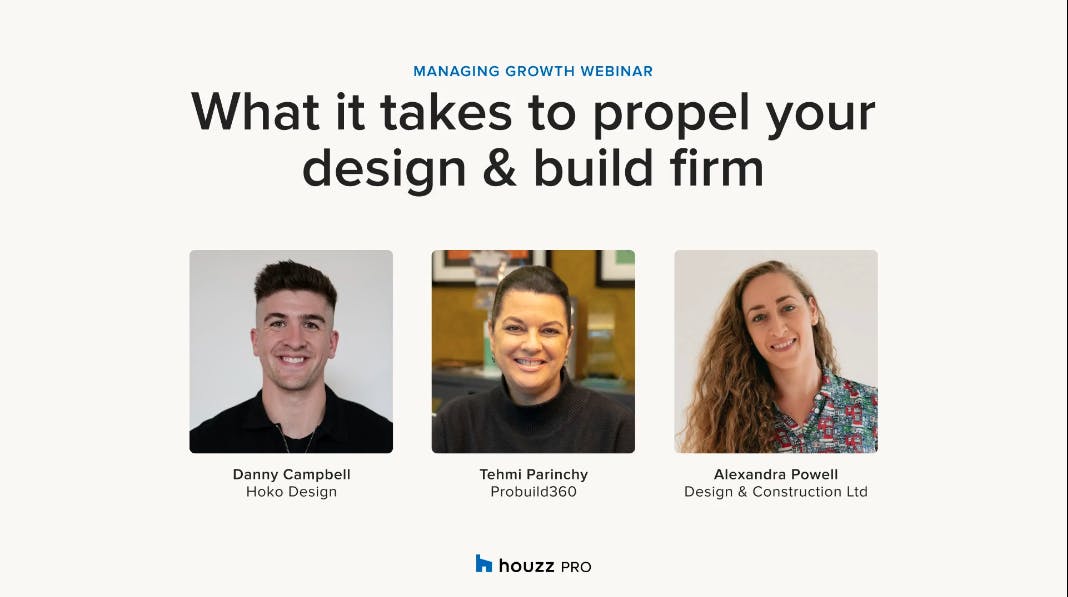 Join Communications Manager, Kiya Kelly, as she quizzed successful construction professionals and Houzz Pro users - Tehmi Parinchy, Director and COO at Probuild360, Alexandra Powell, architect and property developer at Powell Design & Construction, and Danny Campbell, founder of HOKO. They shared valuable insights on what it takes to manage growth successfully, from harnessing the knowledge of lessons learned to game-changing marketing campaigns.
Watch here: https://www.bigmarker.com/houzz2/professionals-insights-propel-construction-design-business
Agenda
Top tips for new firms starting out
How dilemmas faced at the beginning offer valuable lessons to learn from
How using tools like Houzz Pro can help manage your operations efficiently
Hints for reaching profitability and achieving sustainable growth
The best way to hire the right people and grow a successful team
Why good marketing is a game-changer
The secrets to creating new business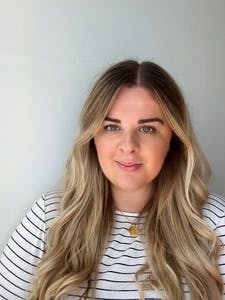 Kiya Kelly
Moderator, Houzz
Kiya is Communications Manager at Houzz, the leading platform for home renovation and design. With a passion for the property renovation and interior trends, Kiya is focused on building brand awareness for Houzz and its offering in UK and Irish markets.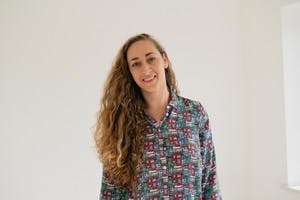 Alexandra Powell
Architect and property developer, Powell Design & Construction
Originally from Athens, architect Alexandra Powell's Design & Construction company is based in Staffordshire and specialises in residential extensions & renovations. Her architectural career has seen her complete residential master planning projects, high-end private residences, social housing and commercial design projects. Here, she'll be sharing her thoughts on the most effective ways to generate new business, and more.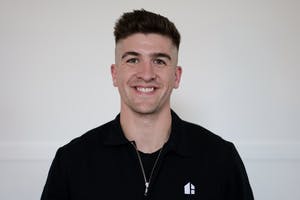 Danny Campbell
Founder, HOKO
Danny is the founder of all-in-one residential architect and build firm HOKO - an innovative online platform striving to make high-quality architectural services accessible to every homeowner. By keeping the whole process from concept to build under one roof, HOKO has grown from a team of 2 to 35 in less than 3 years, seeing a 970% growth rate in client acquisition. Tune in to find out what Danny learnt from the early days that helped him to achieve a profitable business model.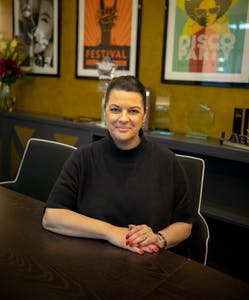 Tehmi Parinchy
Director and COO, Probuild360
Tehmi is a director and COO for the family-run, Probuild360. Operating in the Birmingham area and recently celebrating its 10 year anniversary, Probuild360 has seen impressive growth, with revenues doubling year on year. Tehmi started as a retailer specialising in procurement and supply chain networks across Europe.

Within the construction industry, Tehmi was awarded Signature Awards Business Woman of the year 2020, partially due to her efforts to create one of the most successful independent construction companies in the West Midlands region.
More From Houzz Pro Learn