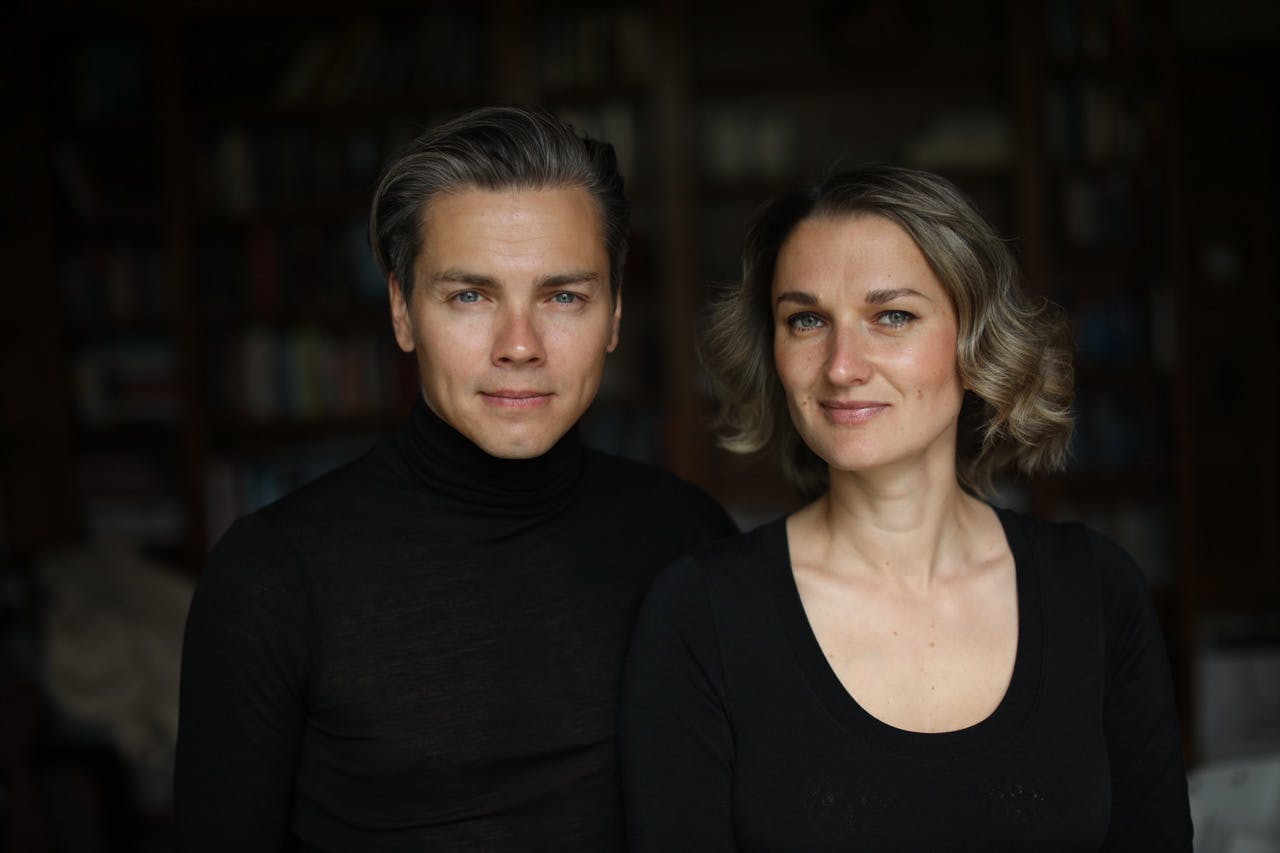 With humble beginnings, interior design firm Black and Milk in London now caters to the high-end market, bringing bespoke dream homes to people who appreciate good design. Husband-and-wife team Olga and Anatoly Alekseev are masters of understated luxury — and in drawing exclusive clientele.
Smart Studio Draws the Houzz Crowd
Olga started Black and Milk on her own back in 2013. A professional interior architect and designer, she was the sole creative director and set the design direction for the brand. In fact, one of her first solo projects stole the Houzz community's heart. "It was a small studio, about 25 square metres, and she did the complete repair and remodelling in such a clever and quirky way," Anatoly tells us. "It had a lot of smart features, like folding beds, mirrors, a concealed study, a console that transforms into a table. She put it on Houzz UK, and it just generated a tremendous amount of interest. People just start calling in saying, 'Oh, we want that. Can you help?' And this is how it all started."
Four years later, "Toly" joined his wife in the business. As he was coming from a project management and IT background, his focus was on customer service and business execution. The marriage of his and Olga's skills propelled Black and Milk into the arena of exclusive, bespoke service loved by Central Londoners today.
High-End Photos Bring Bigger Projects
When Anatoly joined Black and Milk in 2018, he recognised that the business wasn't growing in the direction it should be. "From a strategic point of view, we realised we were serving markets with no budget for good design," he says. Many of their clients would run out of money before furnishing the spaces, so there wouldn't be anything to shoot photos of. "So you can't shoot the projects, and in our business a portfolio is everything, right?" Anatoly says.
He changed the firm's strategy to focus on the projects that easily yield great photos, like furnishing schemes and new builds — and began to invest heavily in the photo shoots. "We literally hired the most expensive and experienced photographer in London," Anatoly says, "because with good photography, you can make your $100,000 budget look like $200,000, so that the next client will come in and say, 'Here is $200,000.' And then you sweat it so it looks like $400,000 — and that's how you grow, basically."
This is a great example of how getting professional photos (along with great reviews and a stellar reputation online) can help your design firm grow.
Demand Surges During the Pandemic
Regarding the effects of COVID-19 and supply-chain issues on their business, Anatoly has a reassuring perspective: "You can't really do anything but manage clients' expectations as best as you can," he says, "but most clients are aware of the current backlogs anyway."
He adds that "we were lucky to see high demand during this time, and our team has actually grown during COVID-19. There are multiple factors, but it's mainly that the three years of uncertainty on the real estate market caused by Brexit is now coming to an end." Whereas Black and Milk was getting maybe one small lead every week, now a lead comes in every day — sometimes two.
The Key to Success 
With the new influx of leads and the sometimes demanding nature of high-end clients, Anatoly says it's important that he and Olga never bite off more than they can chew. The team members also guard their personal time as well. "If a client asks, 'Can we meet on Sunday or Saturday?' I usually say, 'Guys, I've got three kids and a dog. I don't work Saturdays, Sundays, nor after six,'" Anatoly says. They also select projects carefully, choosing those with realistic budgets and exciting goals.
Anatoly says Houzz Pro was instrumental to the firm's success in terms of helping them gain exposure, form relationships in the industry and get steady leads. "It's quite convenient compared to our previous non-interior-design specific software," he says. "It's a great source of sales leads, [and] it's a convenient interface to track these leads through the funnel. He adds, "Eight years down the line, we're now a team of five. We're no longer doing studios. We work in high-end, new-build and full-cycle refurbishment — so, from design to furniture to project management and contract administration."
He also uses Houzz Pro for invoicing, to save time and get paid for projects faster. And he points out that even though Black and Milk has a full-fledged team, "for smaller studios … it's quite a good tool as well, because you can have everything in one place, and it streamlines client communications as well."
Clients with big budgets are usually on the hunt for specific pieces, rare designs or eco-friendly materials. "They have tons of requirements and we need to meet them," Anatoly says. Using various project management tools, communicating clearly and creating thoughtful proposals, the team can fulfil these requirements at every step of the way. 
Juggling multiple projects as you scale is no walk in the park. For Anatoly, the key to success is to have the right team. "Every hire that we make, I think about them as a strategic hire," he says. "I want them to not only be good at what they do, but also grow as the team grows, and be able to take on more responsibility —  because for me, it's always about growth."
Speaking of Growth…
Having been with Houzz since the early days, Anatoly recognises the value of a good online presence — not just for growth but for brand positioning, leads and profits. "We've done a lot of work this year on rebranding," he says. "In fact, it's such a big project, where there are multiple initiatives, but the most important for us is the new brand identity and the new website." He continues, "I just signed the contract to work with a copywriter and graphic designers."
He also plans to "integrate Houzz Pro with QuickBooks Online to have a sharper control over management accounts," he says. "I think with the time that goes by and as the studio grows, we need to sort of strengthen the financial systems in place." 
Gazing Into the Future
"The demand for design will definitely grow," Anatoly predicts of the future. "A few years ago, people were easily satisfied with Shabby Chic, rustic or really low-quality furniture in the retail or commercial space. I think we are getting past that point — now they're really investing into the design. Which in turn will increase demands for the same quality and atmosphere at home." 
But no matter what the future holds, Black and Milk will no doubt keep growing, thanks to Anatoly and Olga's balance of luxurious designs and smart business strategies.