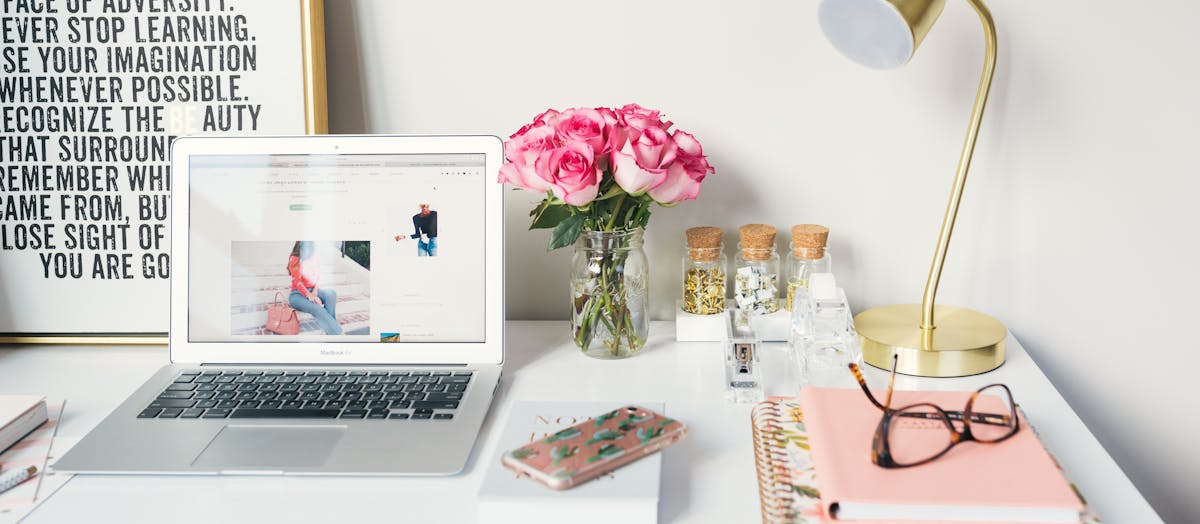 How does it feel to be hired because your client really wants you and knows you're worth every penny? Those are the best clients, right? We know budget can be a big factor when homeowners choose a pro, but it's certainly not the only thing that matters.
From the beginning, Houzz has worked to give pros a way to differentiate themselves on something other than price. Maybe it's your unique expertise, your attention to detail or your impeccable customer service. Whatever it may be, that's what makes you stand out from the crowd and should be what excites and motivates your clients.
So how can you communicate what makes you and your work special and help people understand the value they get when they hire you?
This article aims to arm you with the tools you need to differentiate yourself in this new era of digital marketing. Whether you've already put some effort into online branding or are just getting started, we'll give you some tactics and best practices you can use to build your brand and get noticed by your ideal clients.
It's not as hard as you might think!
So how can you use online branding to attract the clients you want?
1. Storytelling
Building your brand online can be intimidating. Questions like, "How do I stand out? Where do I even start?" are common concerns. But don't worry! Your knowledge about your own business is the perfect place to start.
What do you say when clients ask, "Why should I hire you over another professional?" Put that answer into written words and display it proudly on your website and profile. Don't wait for people to pick up the phone to answer their questions. Telling your story and defining your business is a powerful way to set you apart from the competition. Studies show people buy emotionally, and justify the choice rationally. Savvy businesses give people both facts and make a personal connection online.
Storytelling can take many forms online, whether it's a written profile description, a video explanation of who you are, or educational content aimed to help potential clients understand your expertise.
2. Show Your Passion and Expertise
Your website or Houzz profile description are often the first things homeowners see when they begin researching professionals. Give them a good first impression by telling your story and sharing your expertise and passion for the job. What do you specialise in? How long have you been building or decorating homes? What kind of experience and passion will you bring to the project? Homeowners aren't just looking for someone to do the job, they're looking for a partner they believe in to embark on this journey.
Jeff King of Jeff King & Company tells homeowners who hire him exactly what they're getting from the beginning.
"Jeff King & Company provides award-winning green building and renovation services. We combine painstaking craftsmanship, aesthetic understanding and sustainable building practices to create healthy, efficient and beautiful homes. Our 17 years of successful practice comes from dedication to building long-term relationships with our clients and team collaborators – and that's why the majority of our work comes directly from referrals. In fact, we set out to make every client a client for life." Jeff King, Jeff King & Company
3. Appeal to Their Emotions
Tugging on a potential client's heartstrings can create a connection that speaks to their emotional needs. Whenever you describe yourself and your work, whether it's on your website or your Houzz profile, sharing your passion for your job will help you stand out. You're speaking to clients who are just as excited as you are about collaborating on future projects and building lifelong relationships. Helping a potential client understand your approach to each project can make the difference between getting the project or losing out on a job.
"A room should be like a good friend. It should be compelling enough to draw you in, strong enough to lend you strength, warm enough to comfort you, and familiar enough to embrace your soul." Rhonda Kieson Designs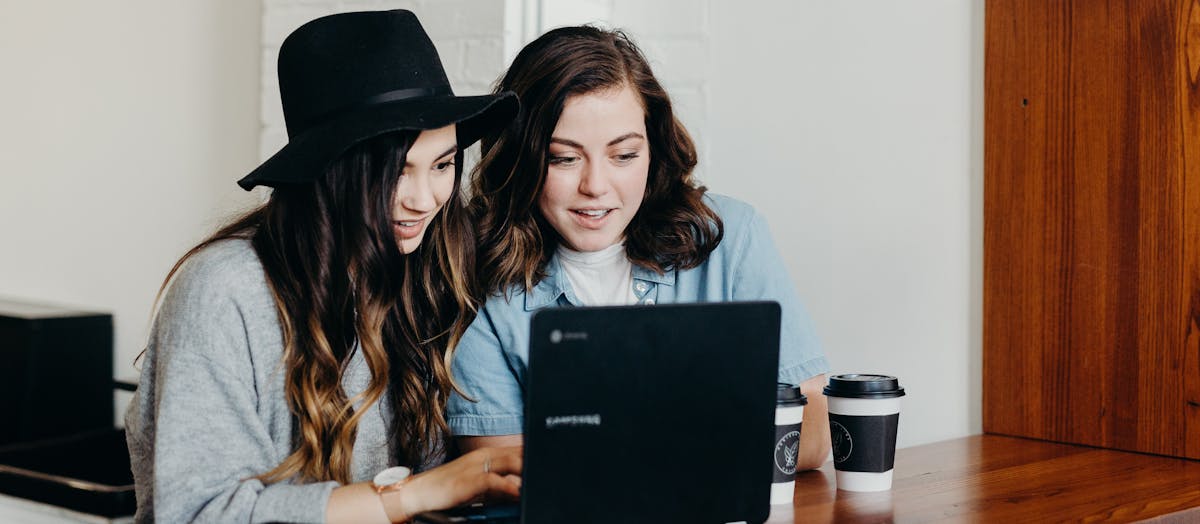 4. Put Yourself in Your Client's Shoes
There are always a few common questions you can expect to answer during initial meetings with potential clients. Putting your answers in writing on your profile shows potential clients who discover you online that customer service matters to you. By proactively sharing this information, homeowners will begin to associate it with you and it becomes a part of your brand.
Synergy Design & Construction know that their past clients have had questions about communication throughout the renovation process, so they proactively address those concerns for potential clients.
"Our entire team is dedicated to helping you actually enjoy the renovation process from start to finish. Because we understand that communication is key to an exceptional experience, we offer our clients convenient ways to stay in touch. We utilise an online project management system, and also offer the ability to meet online to accommodate busy travel and work schedules. During the construction phase, weekly in-person production meetings keep everyone on the same page." Nicola Shelley, Synergy Design & Construction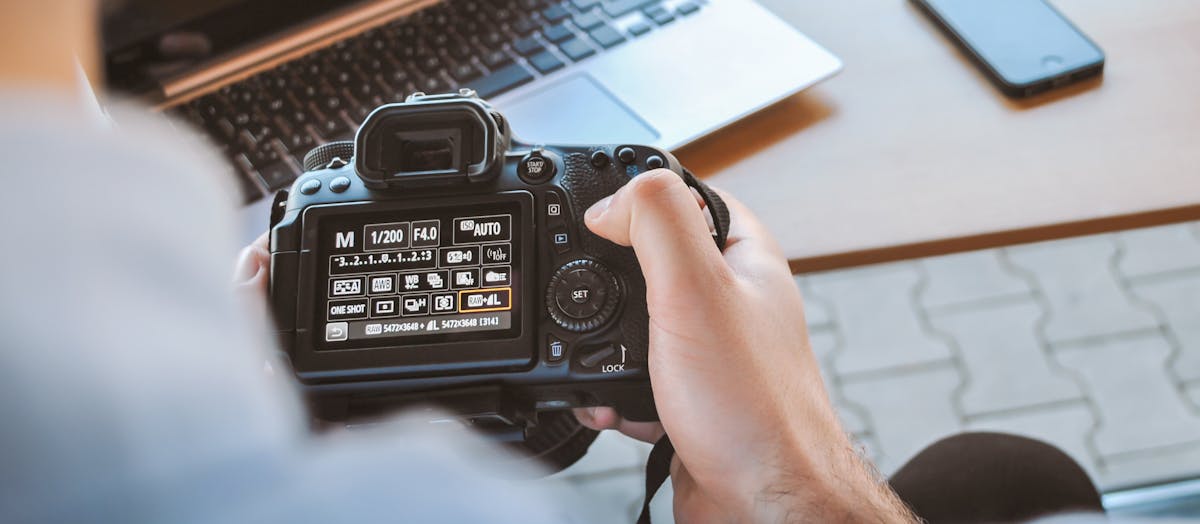 5. Photography
A picture is worth a thousand words. Have you heard that saying a thousand times? Well, it's for good reason. Great photography can create an instant emotional reaction in a homeowner who is looking to be inspired. Whether your photography captures chic interior design, inspiring architectural features or top-notch construction, how you represent your work matters. Eye-catching images are worth their weight in gold when it comes to attracting your ideal clients.
Videography is another powerful element some companies use to show a deeper look. Houzz Pro users can unlock the Video Upload feature to their Houzz profile to have another channel to share their video assets.
6. Be Consistent
Creating visual consistency can help build your brand. Using the same photographer, while not mandatory, gives your photos a consistent quality and style making it easier for potential clients to recognise themes and patterns that flow through your designs and associate them with you and your work. Consistent photography helps define your style and lets potential clients become familiar with your work at a glance.
Martha O'Hara Interiors uses the same two photographers for all of her projects, along with a certain pop of colour, so homeowners can quickly recognise her work.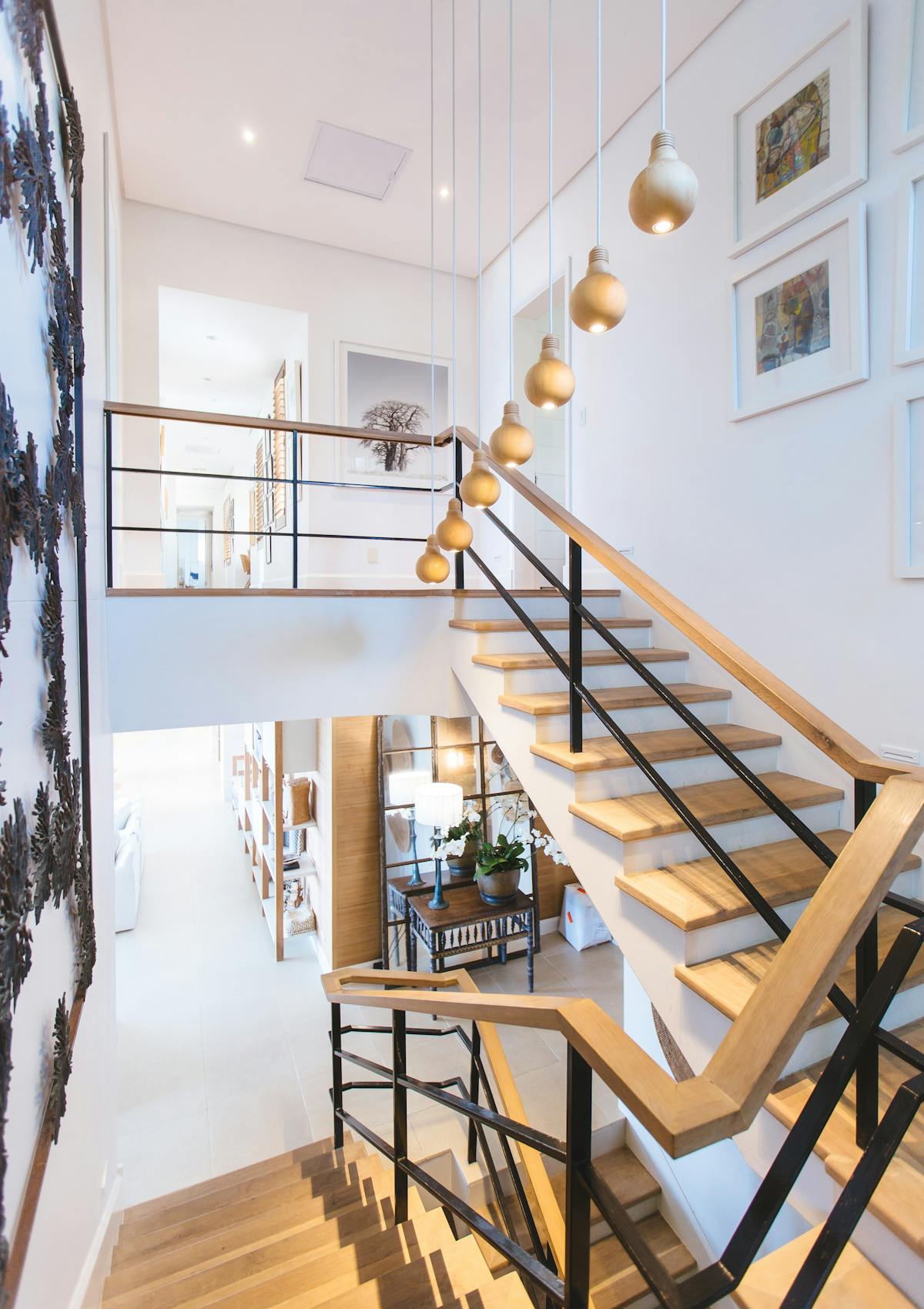 7. Post Photos for the Clients You Want
The type of photos you add to your profile will define not only your work, but also your capabilities as a professional. Just as important, it will set your client's expectations. If all of your images feature one type of project, they'll assume you specialise in that style and clients who are looking for that will definitely notice. If you know how to leverage your photography, you can use this to your advantage.
For a long time, Wiley Gillam from Modern Craft Construction wanted to focus his work on more modern homes, but was attracting clients who wanted a variety of styles. In an effort to target the projects he wanted, he started to only post photos of his modern design projects on Houzz and renamed his company "Modern Craft". Since then, guess what? Wiley has become a leader in modern home design in his area.
The beautiful thing about photography is that it doesn't require language to be effective. Homeowners on Houzz come from around the world for inspiration and to find professionals to help them with their dream project. Having a strong online presence can open unexpected doors.
Many of our professionals have written to us telling us about how excited they are to have been hired by clients as far as Hong Kong, Dubai and Australia all because someone across the world saw their photos and wanted to work with them.
Applegate Tran Interiors' photography has built a global following; they have become go-to designers for clients in Asia, whether they're buying property in the United States or for projects overseas.
8. Get Involved with the Online Community
Having a presence online opens the door to unpredictable and exciting interactions every day. The internet is an active community, and effective branding in the digital age requires participation.
Millions of homeowners and professionals come to Houzz to engage with each other, bringing ideas and questions about their upcoming projects. This is your chance to contribute to the conversation, offer your professional advice and establish yourself as an industry thought leader. Even if the person asking that particular question isn't necessarily a prospective client, your participation can build a loyal following and attract the right attention.
Online forums are an excellent opportunity to understand what today's homeowners care about most, whether they're excited about a new project or complaining about a bad service. This is your chance to directly engage with people, responding to comments and building trust in your brand. Plus these interactions strengthen the impact of your Houzz profile. Whenever you comment in a Houzz forum, that comment will become part of your profile and brand on Houzz.
People notice: we see it happening every day. Jump in! Join the conversation at Houzz Discussions.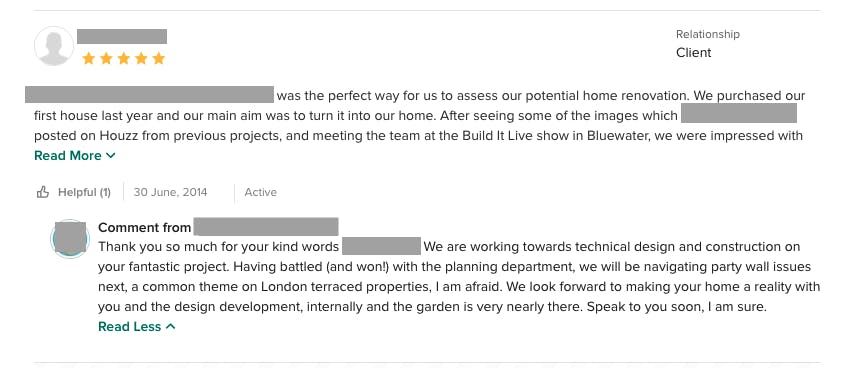 9. Respond to Reviews
It's well known that client reviews are critical for attracting and closing new customers, but they're also a great opportunity to build your brand with the homeowner community. Responding to reviews gives you a chance to maintain your relationship with happy clients after the work is done and show new clients your ability to build strong relationships.
Even bad reviews can be a powerful brand builder. On Houzz, we give professionals an opportunity to publicly respond to any negative feedback so you can tell your side of the story and explain your business practices and process. Doing this will attract the type of clients who approach a professional partnership with level-headed logic. They're the clients who understand that sometimes things don't work out perfectly and that there may be deeper reasons why.
Responding to reviews by mentioning a detail of the project your client was especially excited about can give people insight into why your clients are happy.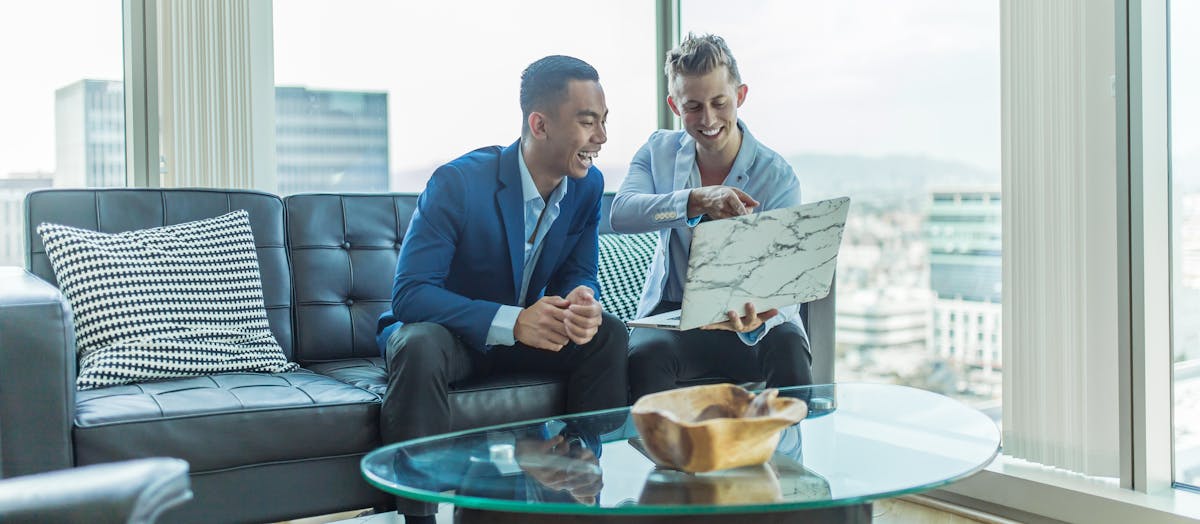 10. Be Yourself
Getting used to holding conversations and offering advice online might take some getting used to, but remember to just be yourself and let your personality shine through. By being yourself, you can show the online community what you might be like to work with. Are you friendly, transparent, knowledgeable, patient or professional? Or all of the above?
Being yourself is one of your most important marketing tools. Potential clients gravitate towards people they know and like. For this reason, a profile photo of you and your team is much more effective than a brand logo. Start off on the right foot by building that personal connection from the beginning.
Use your business description on Houzz to write about yourself and your company – describe how you got into the industry, why you love what you do, and anything that differentiates your business. Clients gravitate to professionals with a more robust description than those who leave this area blank.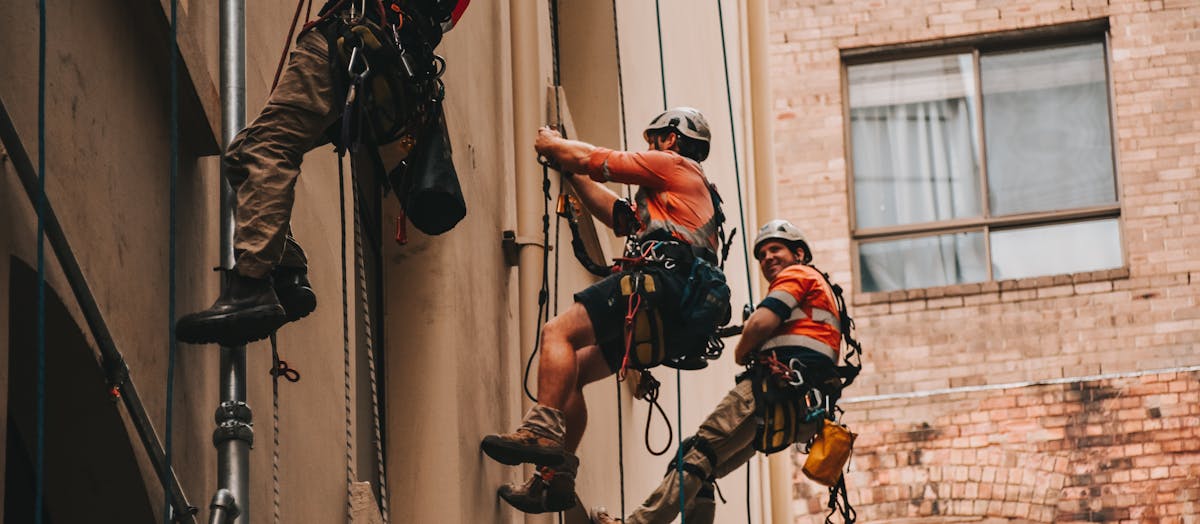 11. Business Growth and Management
Think about your online presence as your digital marketing team, working 24/7, 365 days a week to show prospective clients your work, connect them with happy customers from the past, and tell them all about why you're the right company for the job. That team is out there building your brand every day as potential clients head online to embark on their dream renovation projects. Make sure you arm them with everything they need to succeed.
Another way to differentiate yourself online is through the Houzz Pro business growth and management programme. We'll provide enhanced exposure to homeowners in your target market and premium profile features like video upload, highlight videos, and featured reviews. You'll also get powerful analytics to show how your campaigns are working, and assistance from a client success manager to maintain your online presence.
Then, use our business management tools like our lead management to guide clients through the sales process and our project management tools to easily create estimates. You can provide a stellar client experience while streamlining your operations.
For more information, contact sales.
"I've been on Houzz for over seven years and I love it. Houzz has gotten me a higher profile in the industry and distinguishes me from other contractors because of my five-star rating. Houzz is my best source of qualified leads. When I get a Houzz lead, I call them immediately and I know I'm going to convert it. If they're reaching out to me it's because they have seen my profile, photos, and reviews and they're already comfortable with approaching me" Bill Monroy, Acassa Construction Corporation.