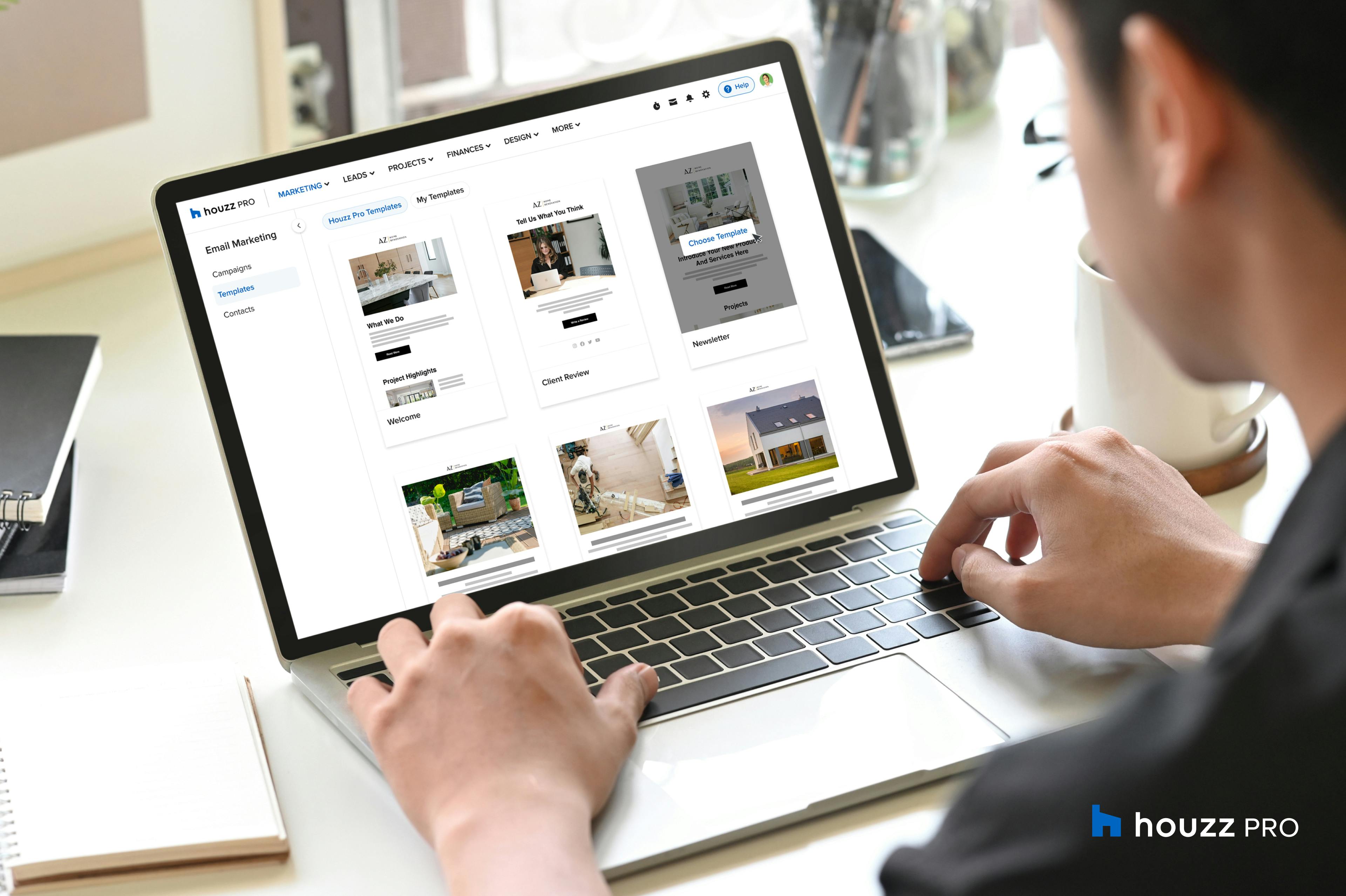 Did you know that email marketing is one of the best ways to engage with leads, turn them into clients and stay in touch with current clients to get repeat business? And it doesn't need to be hard! The new Email Marketing tool from Houzz Pro lets you easily send exciting updates, newsletters and other communications using professionally designed templates. It reduces time and money spent jumping between multiple platforms, and makes sure all of your communications look professional. 
Watch this video to see how easy it is.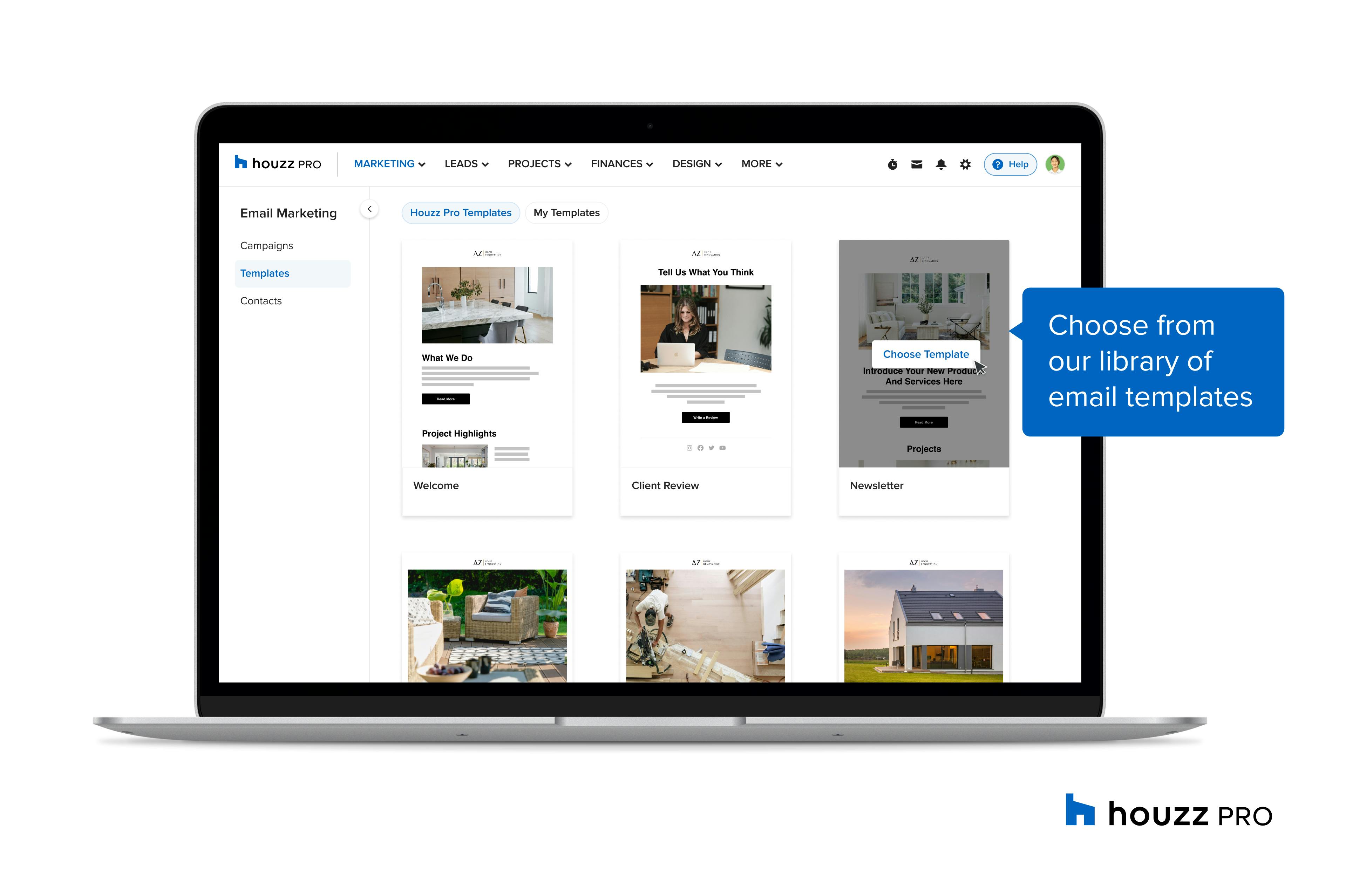 Let's walk through how you can get started with your first email campaign.
1. Select a pre-designed template or create your own using our drag-and-drop editor. You can find the template options under the Marketing tab and selecting "Email Marketing". Click "Templates" and then "Houzz Pro Templates" to select and use a Houzz Pro template designed by professionals, or create your own under "My Templates". 
To use a pre-designed template:
The templates cover a variety of message types, including newsletters, thank you notes and season's greetings.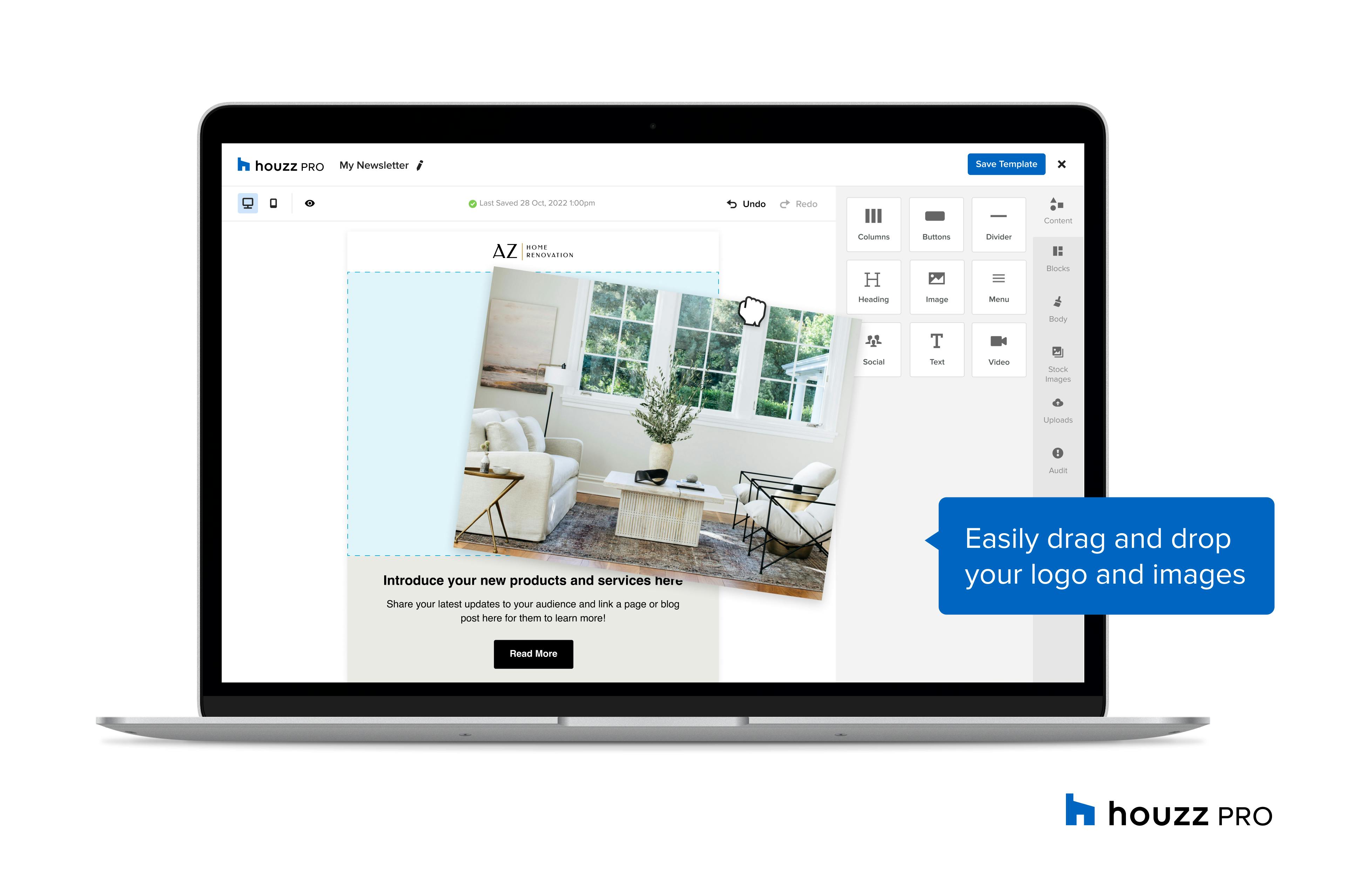 a. Click the template you want to use and enter the campaign name and campaign type (for example, Newsletter or Thank You Note).
b. Then use the drag-and-drop editor to personalise the imagery, logos, copy and social media links. You can include a variety of photos to highlight your latest projects.
To create your own template: click "My Templates" and then "Create a Template".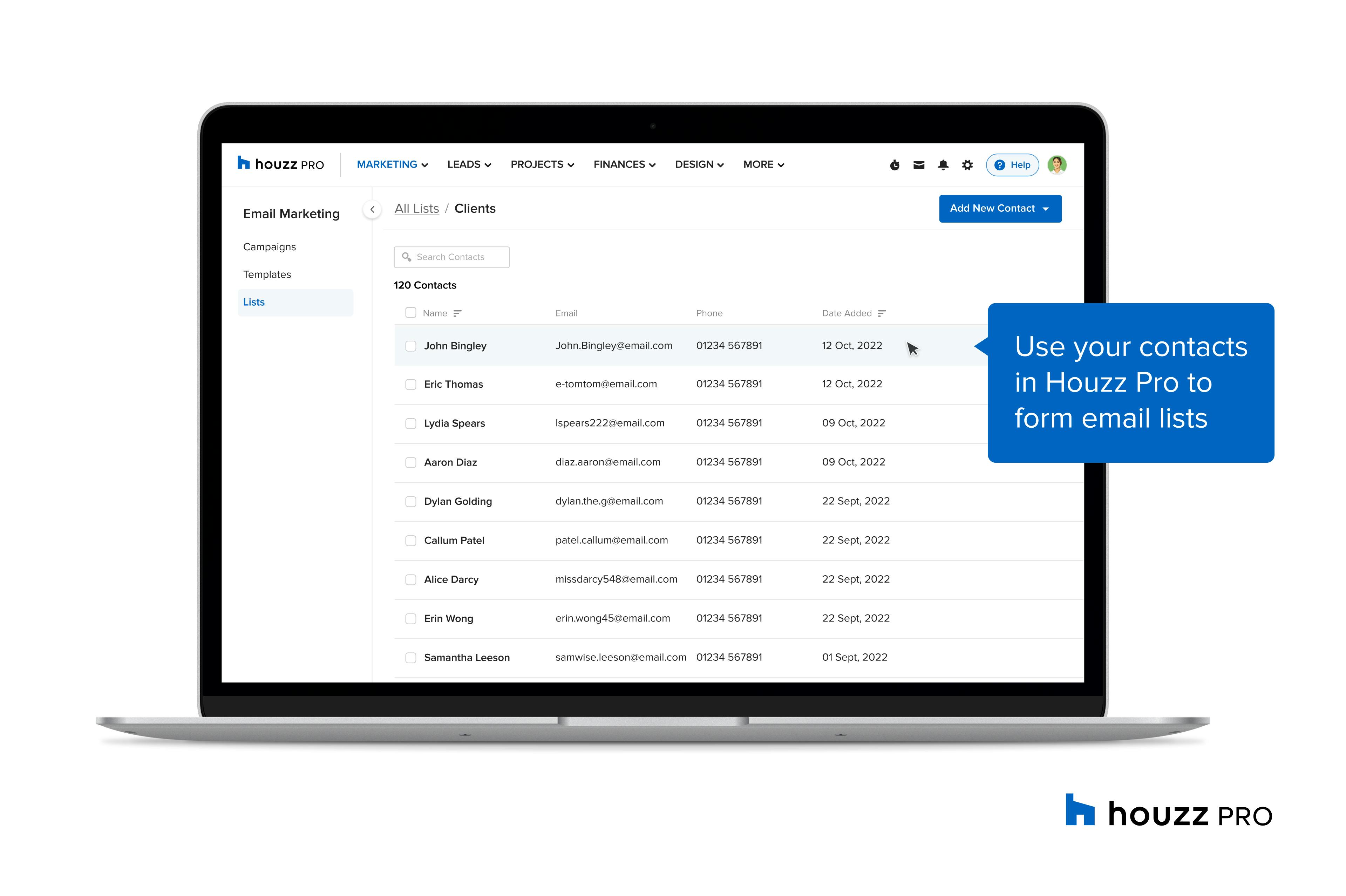 2. Prepare to send your email.
a. Check your sender email. You can send emails directly from Houzz Pro. 
b. Choose your recipients. Your existing leads, clients and suppliers will already be available for you to include, or you can add in contacts from an outside source. Under the Contacts tab, click "Create New Email List," and then click "Add New Contact". You can choose from a list already stored within Houzz Pro, add a list from another source or create a new contact.
c. Add the email details, including your subject line. Don't forget to check out our article on email content best practices for additional tips. 
d. Test your email to make sure it comes across the way you want it to. To do this, click "Send Test Email".
3. Send your email. If everything looks good, click "Send Campaign". You will get a confirmation with the number of clients the email will be sent to. Then click "Send Now".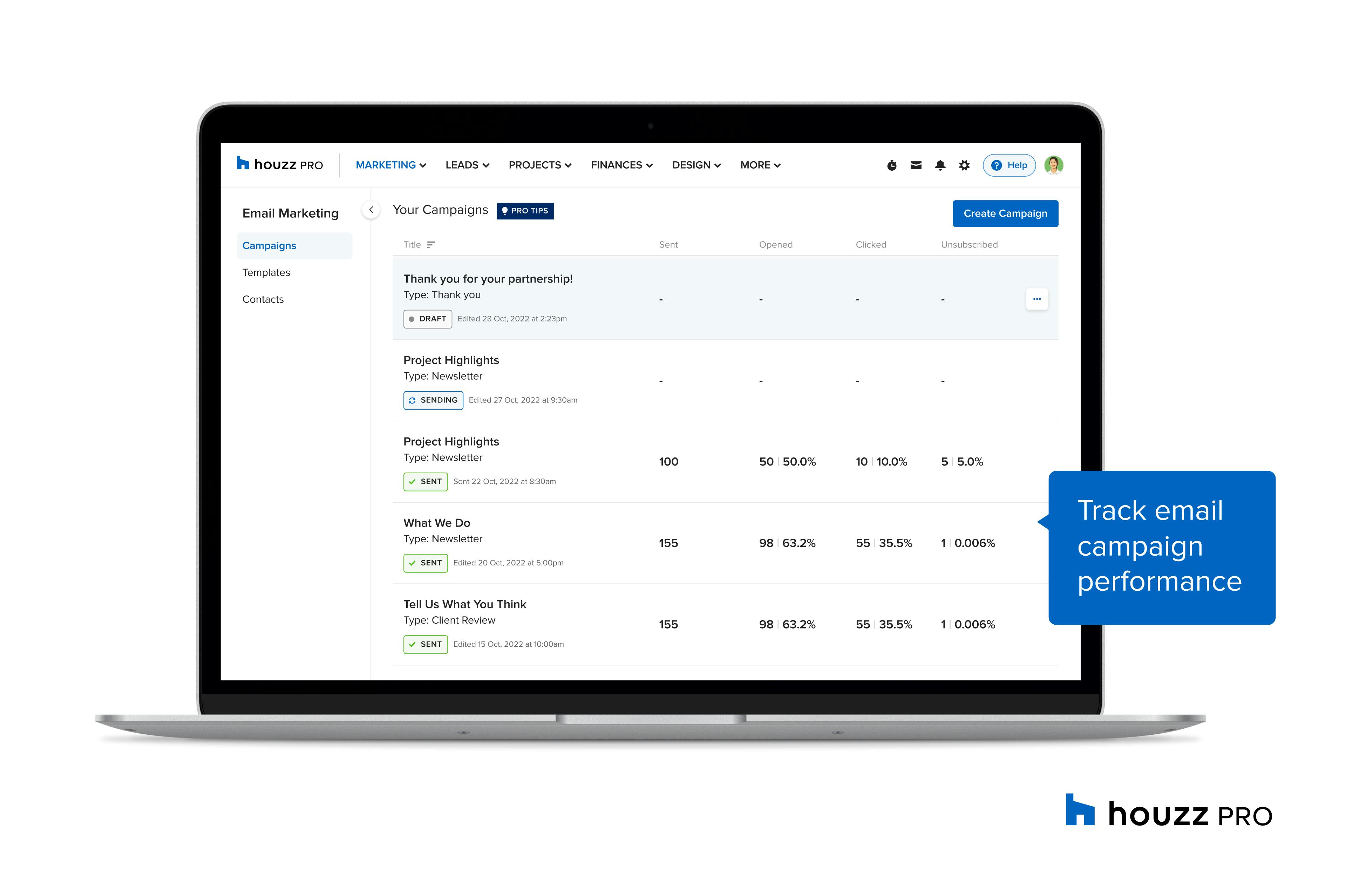 4. See the results. You can manage your campaigns and get insights into campaign reach and performance. You'll know if you were on the right track or need to change up your messaging next time.