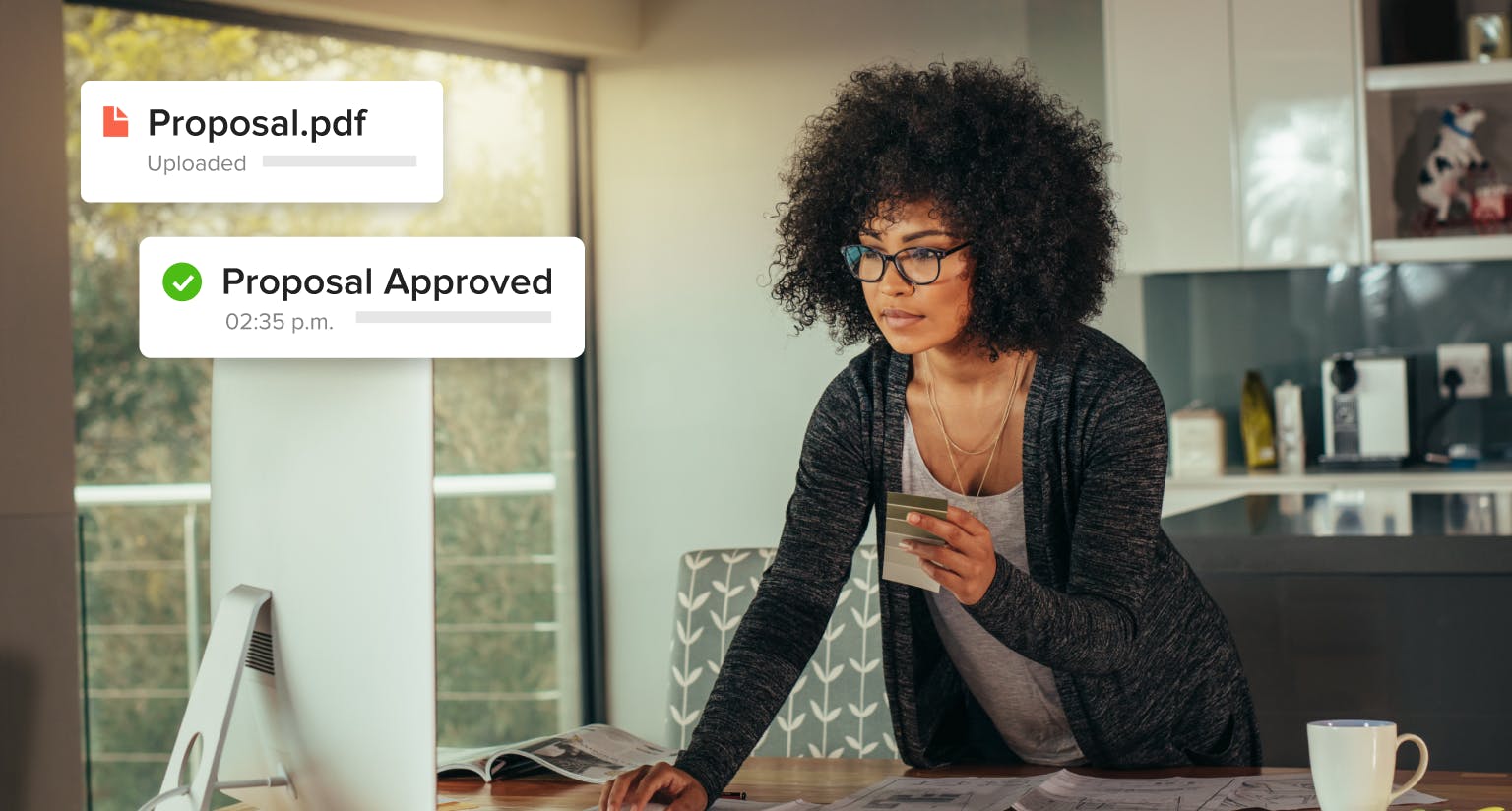 The idea of a modern home is experiencing a revolution. As the pandemic subsides, we are re-evaluating our living-working environments from new perspectives. The home improvement industry is reporting record revenues. The interior design sector is expected to receive a multibillion-dollar boost as well. Whether you are a seasoned interior designer adapting to the digital New Normal or a newcomer eager to break into this market, the competition for clients has never been hotter. Houzz Pro wants to help you succeed in turning potential interior design clients into successful interior design projects. We interviewed some successful interior designers for this six-point, make-or-break take to creating winning interior design proposals.
1. It's not about you. It's about them. Get to know your client. 
Interior design is a fascinating and rewarding field because it caters to people's most critical needs and greatest aspirations. Tasked with a challenging space, designers may underestimate the emotional investment clients have in it. What did not work, prompting a desire for change? How could the client's Big Picture Values manifest in their surroundings? How should it make them feel? Social media allows access to the lifestyle aesthetics of most people and companies. Study their social media down to the first post. Create an insightful questionnaire, have those meaningful conversations, get the details. This way you can always put your best skills at the service of your clients, regardless of their current space.
2. TMI: Too Much (Interior Design) Information. Give curated options. 
The design process can be overwhelming if the windows of opportunity are kept wide-open. One idea, no matter how fabulous, runs the risk of being declined for lack of options. Too many options can make the choice feel impossible. Presenting a few well-founded solutions encourages the client to exercise their executive powers. However, choices should be limited to a manageable pros-and-cons conversation. The Houzz Pro interior design proposal tool and product library allow you to easily add, subtract, or replace any number of items and ideas. You can upload or source product images and details online with the Houzz Pro clipper tool and store them in your personal library for future use. You can customise names, descriptions, technical data, and other info for each project so your client can connect the dots and see the big picture.
3. How much is a pretty penny?! Be clear about costs. 
Successful interior design proposals tend to have itemised breakdowns of costs as opposed to an "all-inclusive" price tag. Clients who understand clearly how much they can expect to pay for different types of services better recognise the total value of a project. It can include fixed fees, per hour rates and other estimates to help clients feel secure in their decision to invest in your proposal. Houzz Pro interior design proposals allow you to add all the services and corresponding costs, including mark-ups, VAT and other expenses. You choose which information to detail on the proposal. Greater financial transparency translates into more assured decision-making.
4. It takes a village. Introduce your team. 
Interior design proposals which reference members of your design network convey a strong sense of community and expertise. Consider introducing the architects, lighting specialists, upholstery gurus, painting pros, or other specialists that may be involved in the project. Simply sharing logos or pictures can sometimes be enough to create initial emotional connections. Help clients understand that they will be in good hands every step of the way. As an interior designer you want to be a trusted source of both great ideas and good solutions. Moreover, Houzz Pro equips you with tools to manage the workflow of your entire team in one place.
5. Where do we go from here? Provide clear next steps. 
Too often great proposals do not receive a green light simply because it is not clear for the client what exactly they can and should do next. Houzz Pro interior design proposals allow you to proactively engage the client's attention. For example, they can approve or decline a proposal easily with an e-signature online. It gives them a greater sense of control and flexibility, leaving the yes-or-no drama behind.
6. It's the little things. Memorable professionalism is in the details.
Don't let your great interior design proposal get derailed by a typo or a misplaced image. Consistency and clarity in your communications builds trust. Houzz Pro interior designer project management software allows for unique customisation of content while maintaining a professional look. Many key elements are automated, so you upload or enter data once and rest assured it will look right, in the right place, every time, from your client to your vendor. From beautiful proposals to printable tear sheets, you can manage the full client lifecycle with peace of mind. All the back-and-forth, including billing, is handled in one place, and online. This ensures clients feel at ease about the entire process. It helps convert your interior design proposals into paid projects and successfully showcases your portfolio!
Learn more about how designers transform their business with Houzz Pro or try Houzz Pro for free today.