How to Use the Room Planner to Offer Selections to Your Clients
Last updated:

The Houzz Pro Room Planner is a workspace and presentation tool to help you offer selections to your clients and collect approvals, all in one place. To access it, open a project and click "Room Planner" to create a selections board – they're called "Room Plans" – or click here to access all your Room Plans across all projects. You can set them up by room or however best fits your workflow.
Your selections boards can pull in your clipped products, materials, finishes, fixtures, appliances, 3D floor plans, and files in an organised way to present to your client.
With each board, you can manage all your product and material selections, track the project budget, progress the project forward with your client, and stay updated with changes.
Create a Selections Board
The Room Planner acts as a visual board of products, materials, finishes, fixtures, and appliances you're suggesting for the project. You can clip these items to quickly save them to your Selections Library and add them to your board. Click here to download the Clipper.
Add 3D Floor Plans to the Board
Within each Room Plan, you can include attachments such as your 3D floor plans, files such as your contract, and more, so everything's all in one place for your client to see. This provides you with a space to work on everything and gives you an encompassing view of the direction of the project.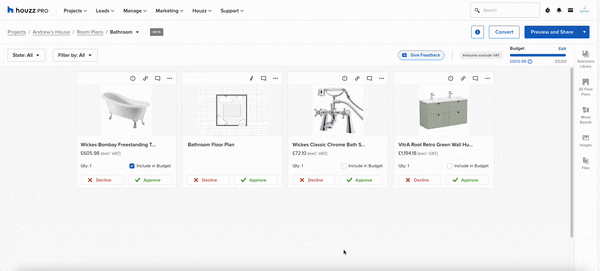 Rearrange and Resize Items
You can even rearrange and resize items to spotlight your suggestions and visually organise it the way you want. You can set certain items as small, medium, or large.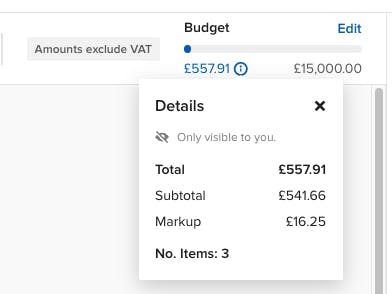 Track the Project Budget
Manage budget expectations with ease. In the upper right corner of each selections board, you'll see a budget bar. Just click Edit to add in the room's budget and watch as the bar fills in as items are approved.
The budget is only viewable to your clients if you give them permission in the Preview and Share screen; in this case they can see only the budget total, not the detailed breakdown.

 You can add items to the budget by checking the "Include in Budget" box.

Share the Board with Your Client
You can send the selections board to your client and they can easily approve and decline items and leave feedback online. You'll be automatically notified when your client approves or declines something, so you always stay updated. 
Share the selections board with your clients by clicking the Preview & Share button, and customise the viewing settings to control what details your clients can see, such as checking the "Show Budget" box. You can share it to the Client Dashboard or via email.

To share product links with your client, click the Item Details section in the viewing settings and check the box for "Show Product Links."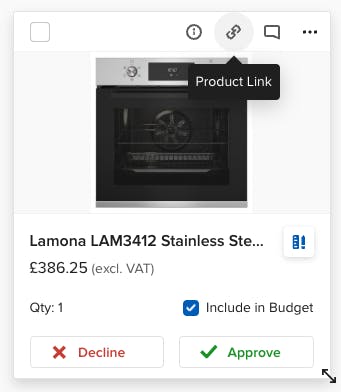 Then you'll see the link icon on each product in the board that has a link. Additionally, you can also find the product link in the details that appear when clicking on the product.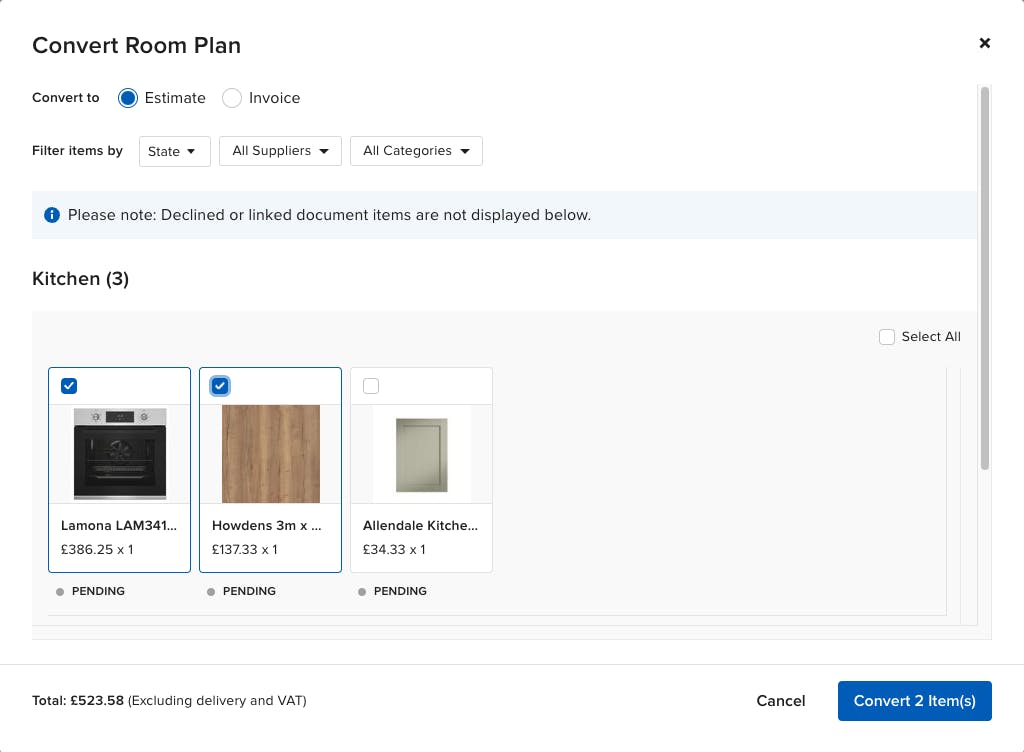 Keep Everything Documented in One Place
Simply click the Convert button on the top right to make the selections board into a professional and estimate or invoice and select exactly which items to include.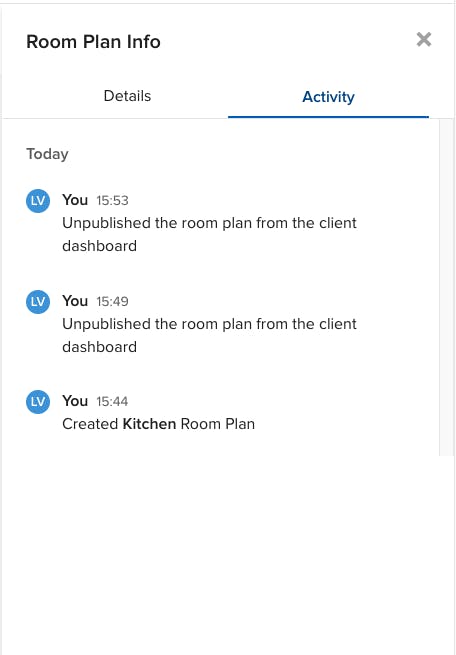 The Room Planner has an interactive record of all your communications on it with team members and clients, providing you with an activity stream of what's been changed, approved, commented on, when your client viewed it, and so on. Access the activity stream by clicking the information (i) icon on the top and opening the Activity tab.