How to Create Purchase Orders
Last updated:
Purchase Orders allow you to easily communicate with suppliers about products you need to source while staying organised about each item's progress.
Convert Estimate and Proposals into Purchase Orders
Easily convert Estimate and Proposal line items into Purchase Orders. Select the line items you want to include by checking them off and selecting More Actions > Create Purchase Order(s). All the relevant product information is carried over seamlessly to the Purchase Order.
Select from your list of supplier
Search suppliers by name or select from your list of suppliers to auto-populate their shipping and billing information. You can also add a custom shipping address or edit any existing billing and shipping information directly from here.
Fully customise your Purchase Orders
Purchase Orders are fully customisable, so you can edit any piece of information, whether that's adding custom columns, editing the shipping information, setting up scheduled payments, or more.
Track line item order status
You can track both the status of individual line items or of the Purchase Order as a whole. In the Order Status column, simply select the relevant status for each item from the drop-down. Or you can select the order status for the entire Purchase Order from the drop-down at the top of the document, and this will change all line items to this order status, but you can still update individual items' statuses after.

Designers: these order statuses per line item will be reflected in the Project Tracker. If you make changes to the order status from the Project Tracker, it will also update on the Purchase Order, and vice versa.
Preview files with a click
Just click on any attached file to preview it instantly. In a click, easily rename, download, or remove a file.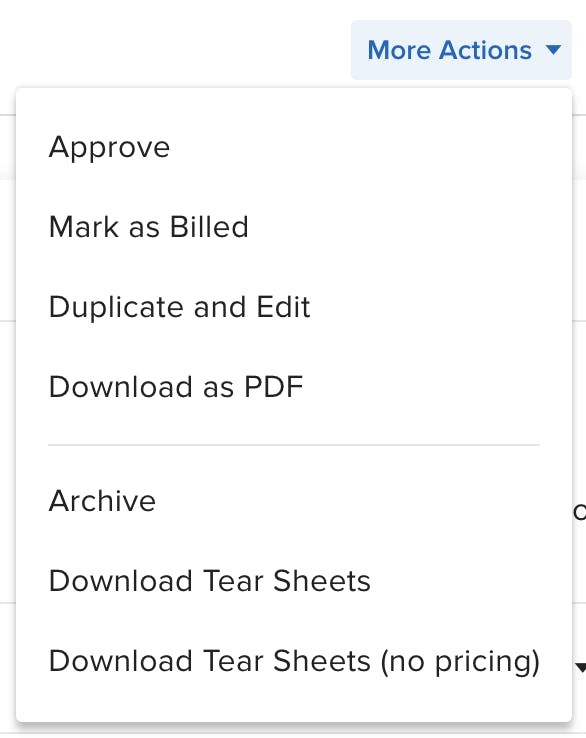 Approve, bill, and share Purchase Orders
In addition to previewing and sharing your Purchase Order, you can also use the More Actions button to mark it as Approved, Billed, duplicate it, download it as a Tear Sheet, and more.
Stay on track with your finances
Your Purchase Orders will be factored into your Outgoing Transactions Report so you can stay on top of all your money coming in and going out.