How to Create and Present Your Designs With the Room Planner
Last updated:
The Houzz Pro Room Planner is a workspace and presentation tool to help you manage your projects' design processes from initial ideation to final product selection. 
With each Room Plan you can manage multiple product selections, track the project budget, and create full room views to present your vision to clients.
Watch this video tutorial to learn about the Room Planner (some features, like budget and tax, may be different for IE users):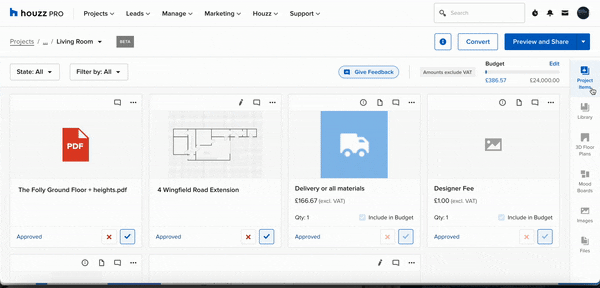 Manage Product Selections
Your Room Planner includes a visual board of both products and services for your project, and your clients can easily approve and decline them so that you know the direction they want to take. You'll be notified when your client approves or declines something, so you always stay updated.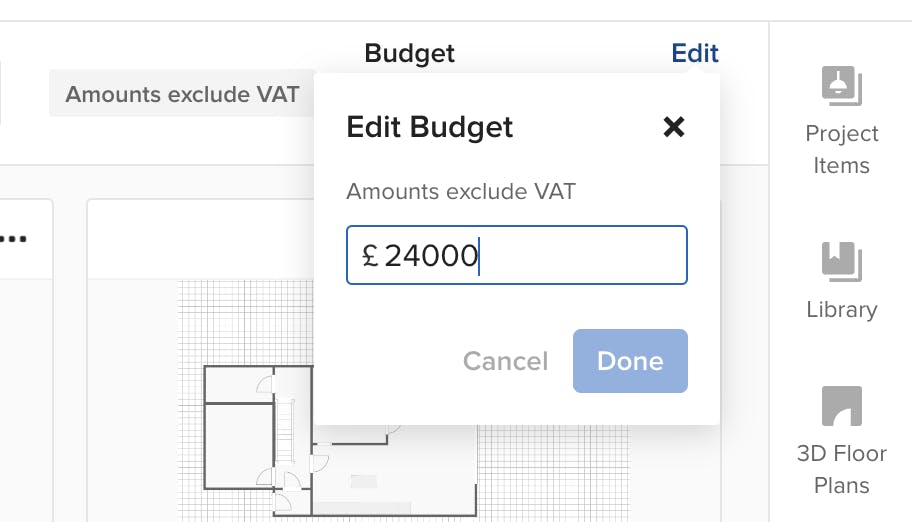 Track the Project Budget
In the upper right corner of each Room Plan, you'll see a budget bar. Just click Edit to add in the room's budget and watch as the bar fills in as items are approved. The budget is only viewable to your clients if you give them permission in the Preview and Share screen.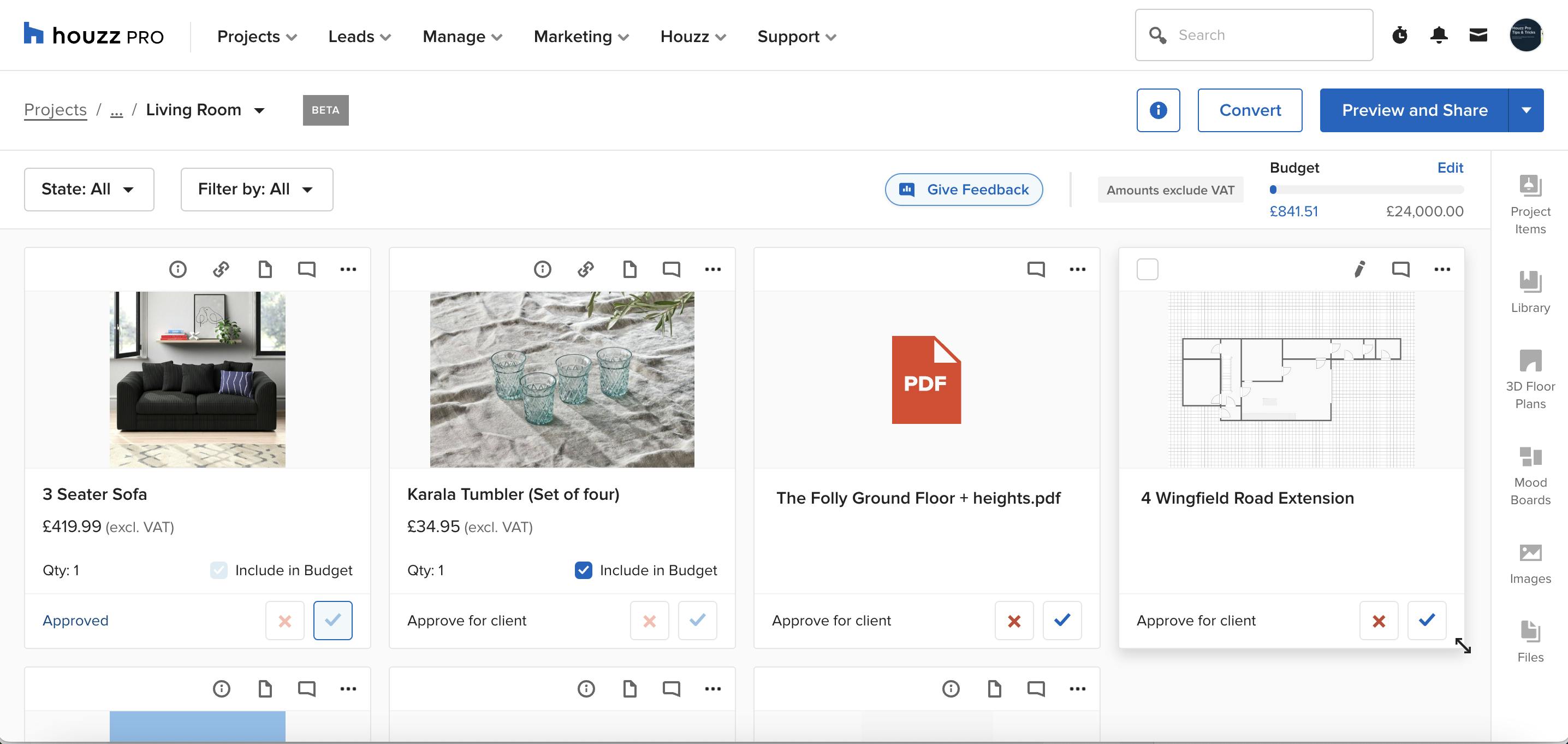 Create Full Room Views
Within each Room Plan, you can include attachments such as your 3D floor plans, contract, mood boards, and more, to express the room's vision. This provides you with a space to work on everything and gives you an encompassing view of the direction of the project.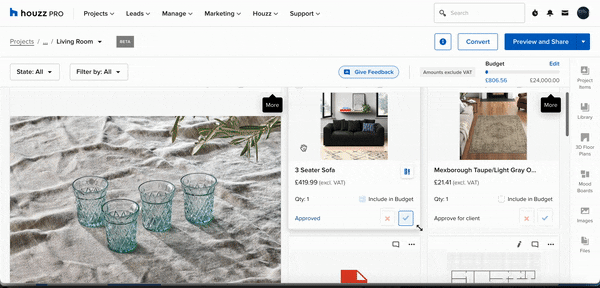 Resize the items on your Room Plan to visually organise it the way you want. You can set certain items as small, medium, or large.

Present Your Vision
Share the Room Plan with your clients by clicking the Preview & Share button, and customise the viewing settings to control what details your clients can see. You can share the Room Plan to the Client Dashboard, export it as a PDF, or download it as a Tear Sheet.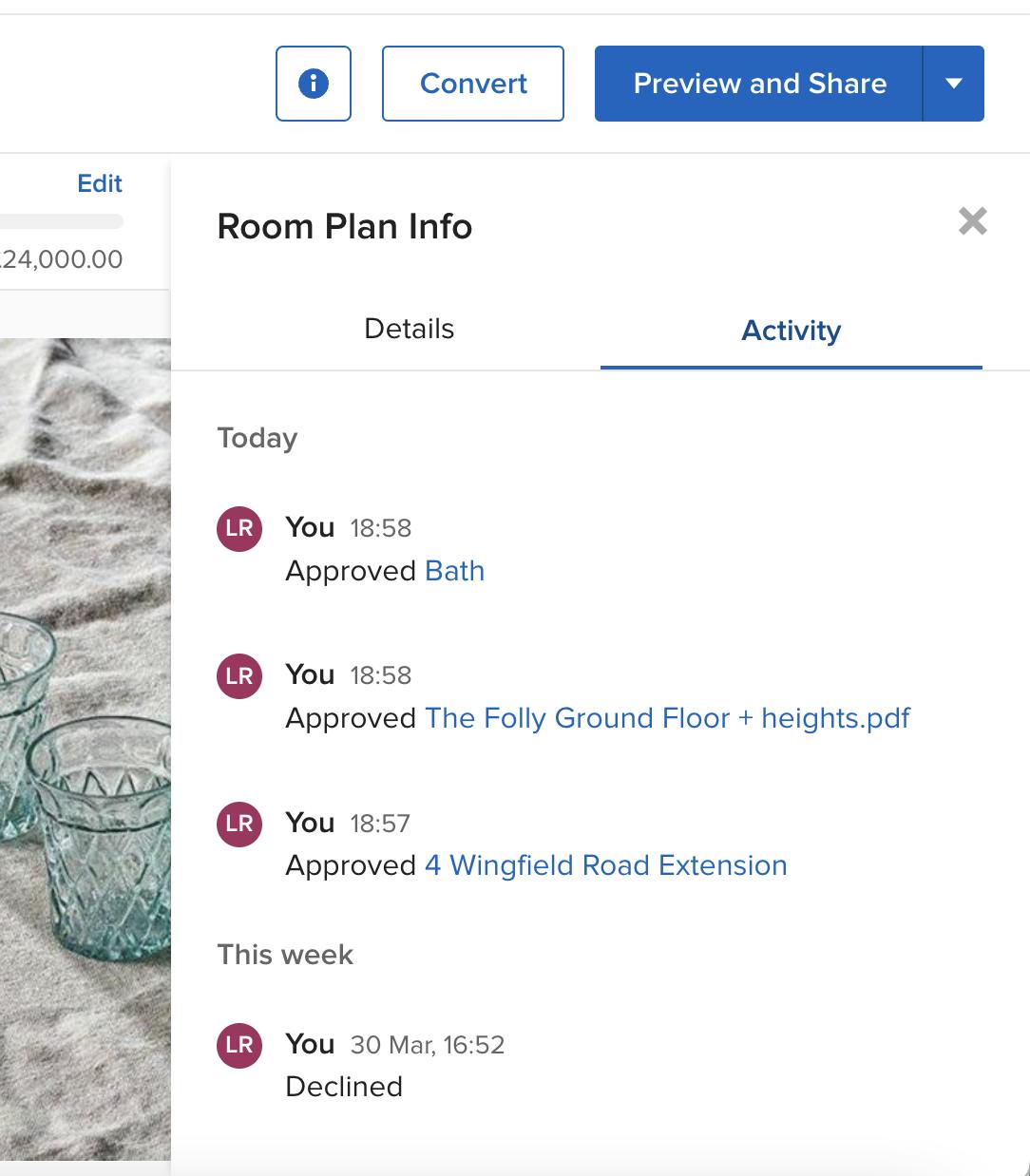 Your clients can easily leave feedback on items and approve or decline them so you finalise the designs even faster. Simply click the Convert button on the top to make a Room Plan into a professional and branded proposal or invoice, moving your project right along.
The Room Planner has an interactive record of all your communications on it with team members and clients, providing you with an activity stream of what's been changed, approved, commented on, when your client viewed it, and so on. Access the activity steam by clicking the information (i) icon on the top and clicking on the Activity tab.