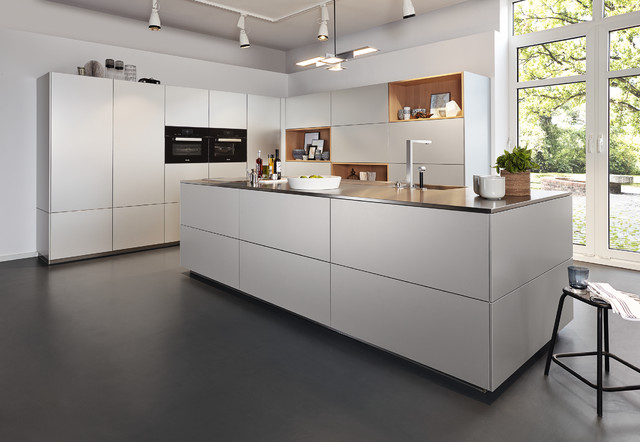 WARENDORF | Urban
Urban. City living meets relaxed sensuality.
The home envisioned not as a physical Location but as a feeling. On the one hand, this kitchen is the embodiment of cool urbanity thanks to its clean lines and the choice of materials such as Aluminium and stainless steel. On the other hand, it also exudes sensuality, personality and emotion. The use of natural, warm oak makes this possible. Excitement guaranteed – not just in the materials
used but also in the way the furniture elements are combined. Urban boasts a technical innovation in the shape of a new subconstruction frame which extends the excitement created on the surface right into
the heart of the units. This is one more example of WARENDORF's commitment to design and quality.

Urban. Städtisches Leben trifft diskrete Sinnlichkeit.
Das Zuhause nicht als physischen Ort, sondern als Gefühl verstehen. Diese Küche verkörpert einerseits Urbanität – ist sie doch geprägt durch klare Linien und eher kühle Materialien wie Aluminium und
Edelstahl. Andererseits vermittelt sie gleichzeitig Sinnlichkeit, Persönlichkeit und Emotion. Möglich ist dies unter anderem durch die Integration von Eiche als warmes Naturprodukt. Für Spannung ist also gesorgt – übrigens nicht nur bei der Auswahl der Materialien, sondern auch bei der Kombination der Möbel.
Als technische Neuerung enthält Urban eine neue Zarge, die die außen aufgebaute Spannung sogar bis in das Korpusinnere verlängert. Ein weiteres Beispiel für den hohen WARENDORF Designanspruch und das WARENDORF Qualitätsversprechen.

What Houzz users are commenting on:


Kitchens with Similar Colours