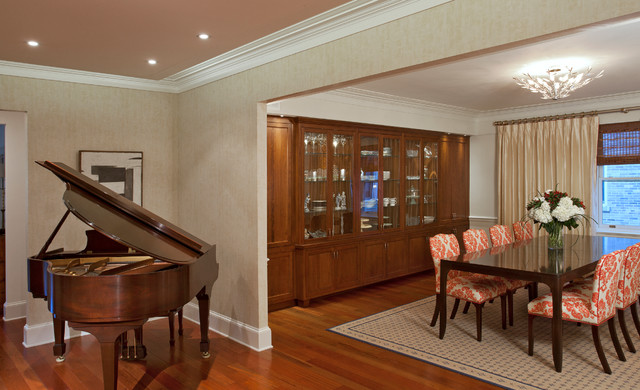 uptown flat
Photography by Ken Wyner

2101 Connecticut Avenue (c.1928), an 8-story brick and limestone Beaux Arts style building with spacious apartments, is said to have been "the finest apartment house to appear in Washington between the two World Wars." (James M. Goode, Best Addresses, 1988.) As advertised for rent in 1928, the apartments were designed "to incorporate many details that would aid the residents in establishing a home atmosphere, one possessing charm and dignity usually found only in a private house… the character and tenancy (being) assured through careful selection of guests." Home to Senators, Ambassadors, a Vice President and a Supreme Court Justice as well as numerous Washington socialites, the building still stands as one of the undisputed "best addresses" in Washington, DC.)

So well laid-out was this gracious 3,000 sf apartment that the basic floor plan remains unchanged from the original architect's 1927 design. The organizing feature was, and continues to be, the grand "gallery" space in the center of the unit. Every room in the apartment can be accessed via the gallery, thus preserving it as the centerpiece of the "charm and dignity" which the original design intended. Programmatic modifications consisted of the addition of a small powder room off of the foyer, and the conversion of a corner "sun room" into a room for meditation and study. The apartment received a thorough updating of all systems, services and finishes, including a new kitchen and new bathrooms, several new built-in cabinetry units, and the consolidation of numerous small closets and passageways into more accessible and efficient storage spaces.
What Houzz users are commenting on:
Dining Rooms with Similar Colours