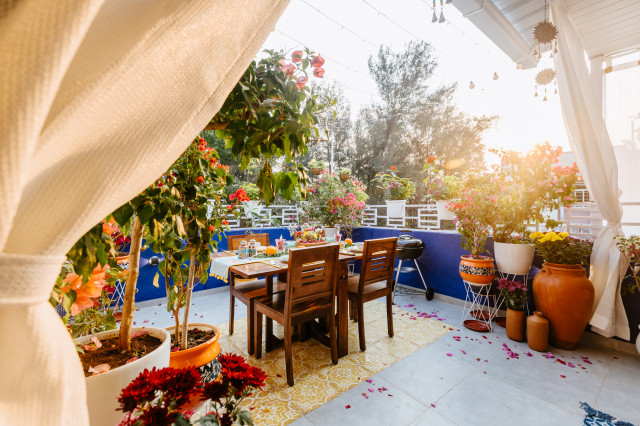 Santorini
Isn't it nice to have a fresh start where you can gather a few new pieces every day and put them back together in a new way, expanding on what is possible? That is exactly what we did for our client!
The terrace is a part of an old vintage bungalow that is situated-not in Santorini Greece- but right here in the heart of our own city of Pune. The bungalow is located in an upscale area of Pune's S.B.Road. Although, the décor and the cabana with Bougainville, and huge green lush might give you the feeling of being on an island. Just like Greece.
As soon as we saw this place, we had a vision for it. We wanted it to feel like a terrace of endless spring. A nice cosy patio that would welcome the couple's summer with a sea of green lush, and a sky full of blue and white. A place that rejuvenates by day and soirees by night. A setting that evokes romance, invokes memories and decorates a relationship.
We wanted it to be fun, laid-back, and vibrant. And so, we went with the idea of white space with splashes of yellow and blue, interspersed with various patterns and textures.
Funnily, I have THE James Bond to thank for the idea. His 1983 classic- 'Octopussy'- beautifully showcases 'The Oberoi Udaivillas of Udaipur'.
It felt like a palatial dream!
However, the dream needed some work with endless nights. A lot had to be done in terms of civil work and fabrication. But, right from breaking down all the previously existing structures and starting everything from scratch, to some major waterproofing work and installing detailed decor accessories, Puru took care of it all!
We satisfied our client's hopes and dreams even before they realized them. Because we at Puru believe in the fine art of the future, one that is comfortable, cosy, and stylish at the same time.
Terraces with Similar Colours