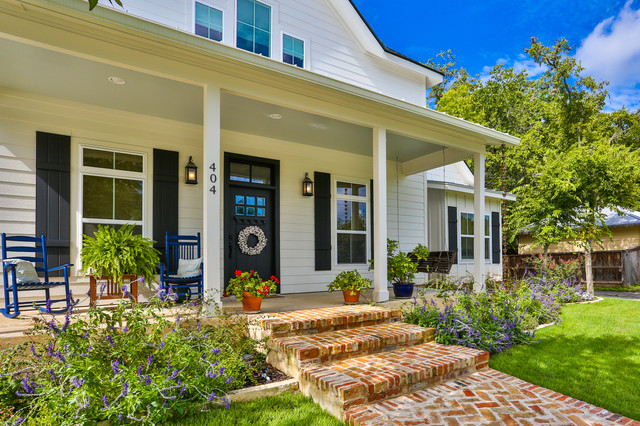 Porch - Boerne Traditional Modern Home
What Houzz users are commenting on:
Tatiana L added this to Front Entry Courtyard
10 September 2020
7 Ways to Create a Neighborly Front Yard https://www.houzz.com/magazine/7-ways-to-create-a-neighborly-front-yard-stsetivw-vs~20273340 Foster community spirit by setting up your front porch, paths and yard for social interaction Many of us find ourselves living in communities defined not by common acquaintances, knowledge and culture, but by geography or economics. Rather than knowing our neighbors from childhood, we may not know our neighbors at all. To create a sense of community, it's often necessary to bring people together so they can get to know one another. By creating spaces where members of a neighborhood can mix naturally (at a safe distance), communities can become communities in the true meaning of the word — places where people not only live together, but care about and watch out for one another. Here are some ideas to help foster interaction with your neighbors on your sidewalk, in your front yard, on your walkway and on your front porch. 7. Add Social Seating Outfit your porch for sociability — the more comfortable you are, the more likely you are to linger. Tables that can hold food and drink provide another element of comfort. Space out seating so people can socialize at a safe distance.