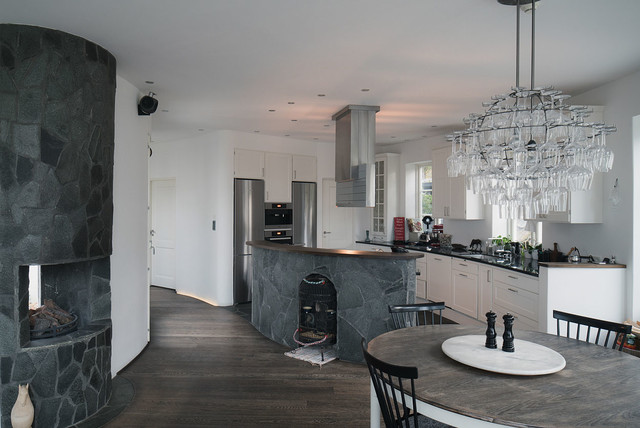 Pål Ross Hem
Fredric Boukari Photography © Houzz 2015
What Houzz users are commenting on:
eva_andersson93 added this to Nytt hus
4 April 2018
Själva matlagningsdelen av köket är ganska liten, bara 11 kvadratmeter, men smart anpassad. Bänkarna är till exempel 70 cm djupa istället för de vanliga 60 cm, så avställningsytan är så mycket större. Ena änden av köksön är rundad så 3 till 4 personer får plats att jobba samtidigt, och kan rulla ut pizzadeg eller hacka grönsaker. Att planera ett hus noggrant från grunden och upp gör att Rosshus känns så naturliga – de har många timmars tankemöda bakom sig. "Att planera minsta detalj från början betyder inte att det blir dyrare, men det blir så väldigt mycket bättre," säger Pål, som inspirerats av det antroposofiska tänkandet hos arkitekt Erik Asmussen. Det exklusiva finns här i detaljerna – den öppna spisen till exempel går tvärs igenom väggen och kan ses både från vardagsrummet och utepoolen, medan den inbyggda papegojburen smart nog passats in under köksön. Golvet i köksdelen har lagts med en granit som påminner om den på klipporna utanför. "Att gå barfota på den och förnimma naturen triggar urmänniskan i oss och förbättrar livsmiljön. Det är riktig lyx för mig," säger Pål.
Camilla Pedersen Stub added this to Hus inspiration
23 March 2017
Selve madlavningsdelen af køkkenet fylder kun 11 kvadratmeter, men er super smart indrettet. Enhederne er eksempelvis 70cm dybe frem for de gængse 60cm, hvorfor opbevaringskapaciteten er markant forøget. Den ene ende af køkken-øen er afrundet, så 3-4 mennesker kan arbejde omkring den samtidig med masser af plads til at hakke grøntsager eller rulle pizzadej. Netop fordi Ross har designet hele huset fra bunden, føles udtrykket så naturligt - og det har da også taget mange timer ved tegnebordet at udtænke. "At planlægge hver enkel lille detalje fra begyndelsen, betyder ikke, at det bliver dyrere - det betyder bare, at resultatet bliver meget bedre," siger Pål, som inspireres af arkitekten Erik Asmussen og hans antropologiske tilgang. Eksklusiviteten ligger i detaljerne - den åbne pejs fortsætter eksempelvis på tværs af væggen og er synlig fra både stuen og atriet, mens det indbyggede papegøjebur smart nok passer perfekt ind under køkkenøen. Gulvet i køkkenområdet er af granit og trækker paralleller til skiferbeklædningen udenfor. "Når man går barfodet rundt, kan man virkelig mærke naturen. Det styrker det indre urmenneske og forbedrer indemiljøet. For mig er det ægte luksus," siger Pål.
Homes with Similar Colours