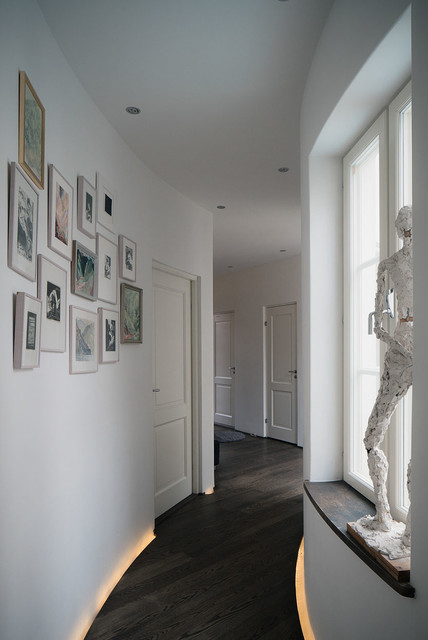 Pål Ross Hem
Fredric Boukari Photography © Houzz 2015
What Houzz users are commenting on:
eva_andersson93 added this to Nytt hus
4 April 2018
Fredric Boukari Photography Pål försöker undvika korridorer i sina projekt och har gjort denna till ett galleri med konstverk på väggarna och i fönstret. Statyn är skapad av Påls mor, konstnären Lillebil Bengtsson De Rodrigues som bor i Spanien där även Pål tillbringade en stor del av sin ungdom. "Hon satt där på stranden och målade då borgmästarens son gick förbi och såg enligt familjesägnen ut som Elvis Presley. Han blev sedan hennes nuvarande man." Pål själv flyttade till Sverige för att göra militärtjänstgöring och träffade så småningom Deirdre som flyttat hit från USA – Påls pappa var amerikansk och på flykt från Vietnamkriget, då Sverige inte hade något utlämningsavtal. LED-belysningen gör att trägolvet känns flytande, lite som att gå på en brygga – ännu en anspelning på båtar och kustliv.
Camilla Pedersen Stub added this to Hus inspiration
23 March 2017
LED-belysningen får trægulvet til at se svævende ud, så man næsten føler, man går på en bro - endnu en kunstfærdig og skibsagtig detalje.
Hallways with Similar Colours