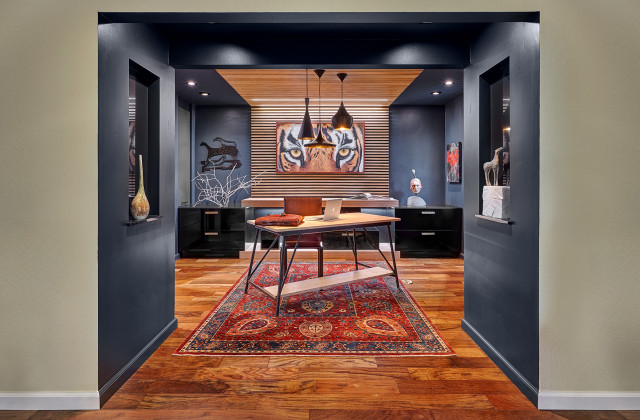 Mstari Safari Task Lounge
Meaning "line" in Swahili, the Mstari Safari Task Lounge itself is accented with clean wooden lines, as well as dramatic contrasts of hammered gold and reflective obsidian desk-drawers. A custom-made industrial, mid-century desk—the room's focal point—is perfect for centering focus while going over the day's workload. Behind, a tiger painting ties the African motif together. Contrasting pendant lights illuminate the workspace, permeating the sharp, angular design with more organic forms.

Outside the task lounge, a custom barn door conceals the client's entry coat closet. A patchwork of Mexican retablos—turn of the century religious relics—celebrate the client's eclectic style and love of antique cultural art, while a large wrought-iron turned handle and barn door track unify the composition.

A home as tactfully curated as the Mstari deserved a proper entryway. We knew that right as guests entered the home, they needed to be wowed. So rather than opting for a traditional drywall header, we engineered an undulating I-beam that spanned the opening. The I-beam's spine incorporated steel ribbing, leaving a striking impression of a Gaudiesque spine.
What Houzz users are commenting on:

Home Offices with Similar Colours