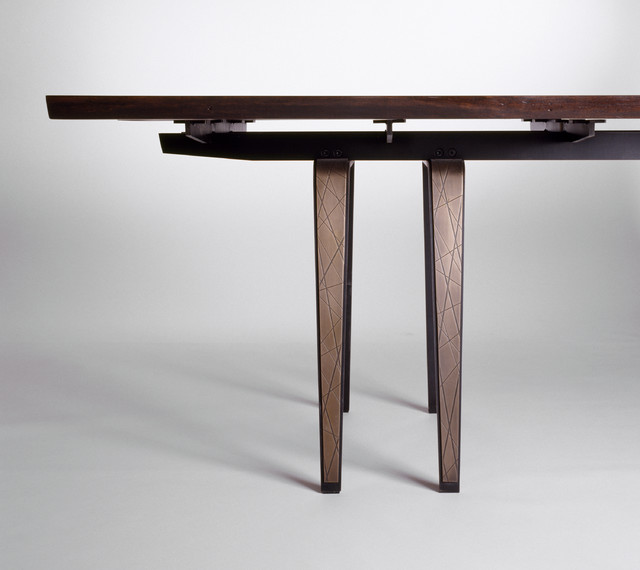 Ling Dining Table
The top of the LING table consists of two large (22" wide, 2" thick and 8-ft. long) slabs of reclaimed elm wood, stained a dark umber color. The outer edges of the top are the "living edge" of the original elm tree, while the inner edges are cut and machined (with a 1-1/2" gap between the two wood slabs). The table base utilizes blued steel with an overlay of bronze with a complex, laser-cut pattern.
Size: 3'-2" x 8'-6"
Materials: Reclaimed elm, blued steel, laser-cut bronze
Photo: Benjamin Benschneider
What Houzz users are commenting on:
isaacch6 added this to house facades
1 February 2015
bronze overlay laser cut, live-edge elm top floats above a blued-steel base
blueberryisland added this to Kitchen Ideas
1 February 2015
Ling Dining Table The top of the LING table consists of two large (22" wide, 2" thick and 8-ft. long) slabs of reclaimed elm wood, stained a dark umber color. The outer edges of the top are the "living edge" of the original elm tree, while the inner edges are cut and machined (with a 1-1/2" gap between the two wood slabs). The table base utilizes blued steel with an overlay of bronze with a complex, laser-cut pattern. Size: 3'-2" x 8'-6" Materials: Reclaimed elm, blued steel, laser-cut bronze Photo: Benjamin Benschneider

Jane Walker added this to Furniture
18 August 2014
The dining table has a reclaimed, live-edge elm top that floats above a blued-steel base. The top is stained dark espresso. The table legs have a bronze overlay that's been laser cut with a leaf pattern. The straight machine-cut lines have nature-inspired patterns; the live-edge wood is supported by lines of steel. There's tension and balance between these engineered and nature-inspired details throughout the home.