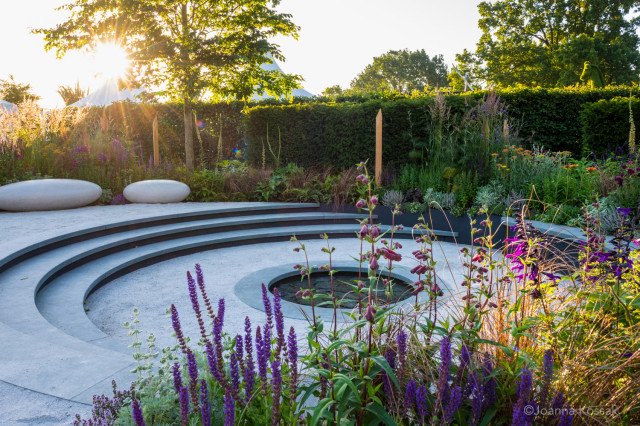 Hampton Court 2019
The garden won the People's Choice Award, Best Construction and a Gold Medal at RHS Hampton Court Garden Festival 2019. Commended for its ambition, creativity and strong theme the garden was well received by both the judges and visitors to the show.

Charitable gifts in wills account for over a third of Cancer Research UK's funding. The garden aimed to pay tribute to those who have made these generous gifts to CRUK and highlight the importance these have to the work the charity does in finding a cure for all cancers.

A series of carved timber posts were positioned around the main path of the garden, these 'Progress Stakes' presented a timeline of CRUK's history charting important discoveries and pieces of research.

Around the outside of the garden a second series of carved posts were displayed, each engraved with the name of someone who has pledged a gift to the charity in their wills. By pairing these 'Pledge Stakes' with the 'Progress Stakes', the garden aimed to pay tribute to the charity's supporters and make the important connection between these pledges of support and the important progress CRUK has made in finding a cure for all cancers.

The garden was a walkthrough space with a curved sunken seating area and water feature at its centre. Visitors to the show were invited to walk into the garden and take a moment to sit, pause and reflect on the bespoke limestone bench and polished concrete pebble seats, courtesy of Ben Barrell Sculpture.

A bright and bold colour palette of purples, pinks and oranges accented with tones of silver and rust were incorporated into the planting scheme. Curved Taxus hedges added privacy to the garden and framed views into the garden. Taxus hedging was chosen for its affiliation to cancer treatment as the source of drugs used in treating patients undergoing chemotherapy.
Gardens with Similar Colours