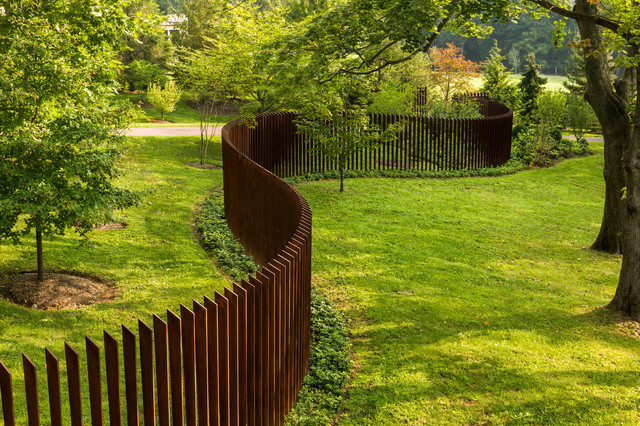 Cor-Ten Cattails Sculptural Fence
Photographer: Tom Crane


Made of 300, 10-foot steel blades set upright 8 inches apart, the award winning Cor-Ten Cattails Sculptural fence was designed for a home in Berwyn, Pennsylvania as a yard sculpture that also keeps deer out.

Made of COR-TEN, a steel alloy that eliminates the need for painting and maintains a rich, dark rust color without corroding, the fence stanchions were cut with a plasma cutter from sheets of the alloy.

Each blade stands 8 feet above grade, set in concrete 3 feet below, weighs 80-90 pounds and is 5/8 inch thick. The profile of the blades is an irregular trapezoid with no horizontal connections or supports. Only the gate has two horizontal bars, and each leaf weighs 1200 pounds.


What Houzz users are commenting on:
Gardens with Similar Colours