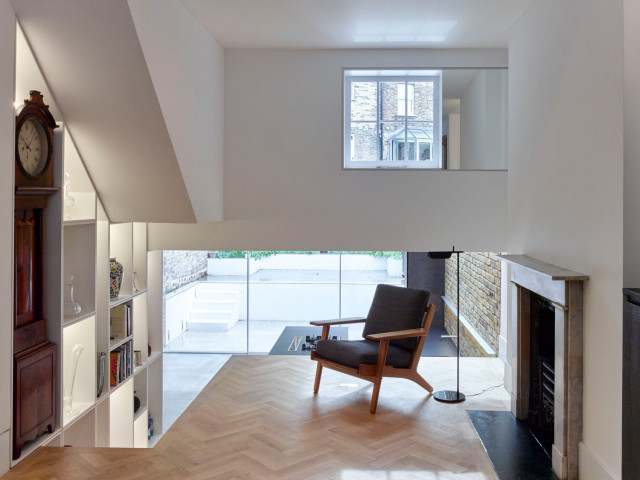 Capablanca House, Refurbishment & Extension
Many homes don't enjoy a flat floor, a home on a hill or an existing terrace property for example. We have seen some real 'up and down' houses. Whilst these levels can be seen as a challenge they also offer great opportunity. Where there are changes in level there are opportunities to get light between. Expanding the floor space of the house into rooms that have views of the garden and sky, playing with the difference in heights can be a joy if handled correctly. At Capablanca house the change in levels allowed views from the front to the back of the house creating views right through the house. It is always a lovely thing to be able to see light on both sides of a home.

A mix of white and dark, tobacco-stained sawn oak creates a unique chequerboard look. Paying homage to this, we've named the house Capablanca, a variant of chess that was invented in the 1920s. The play of materials brought together in harsh light breaks apart the cave-like feel of this small space, the exploded and reconfigured series of parts creating a new scale of room to live in.

Creating tall spaces in small residential properties can raise the living rooms above the usual. Ground floors are normally imprisoned below bedrooms, breaking the visual dominance of the ceiling above and welcoming south light in a surprising and delightful way can add enormously to the pleasures of life at home.
Living Rooms with Similar Colours