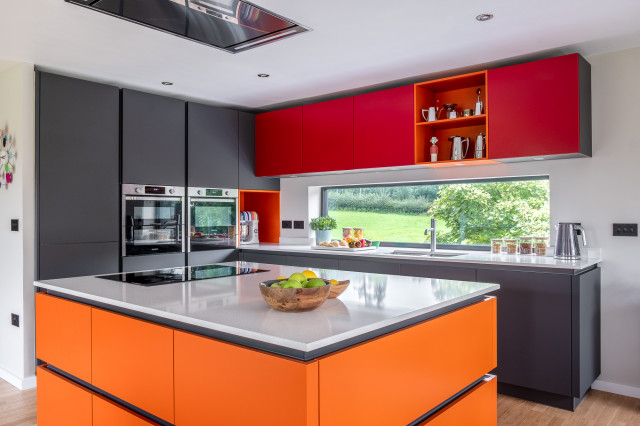 A dilapidated five-bedroom, five-bathroom B&B becomes an eclectic mid-century mo
Conversion of a five-bedroom, five-bathroom B&B into a single-family home in Tewkesbury, Gloucestershire. The objectives of the renovation were to complete extensive repairs to the roof structure to prevent it from slowly collapsing on the house below and to move the living areas upstairs to immerse the entertaining spaces in nature. Natural light and treetop views now suffuse this mid-century modern inspired Tewkesbury home. A new kitchen picture window to the front elevation and sets of large windows to the back and side elevations flood the "upside-down" home with constantly changing natural light and capture a treetop outlook in the front and garden views at the rear. The sofa, armchairs, nest of tables, sideboard, dining table and chairs are all Ercol original furniture pieces. In true mid-century modern fashion, the space is enclosed by slatted screens and lightly zoned through the arrangement of furniture and rugs, above which the eye can pass through unhindered. The design of the kitchen was inspired by Piet Mondrian's abstract geometric compositions with Yellow, Blue and Red. Mondrian's paintings are characterised by flat black horizontal and vertical lines that create a grid filled with coloured forms. In the vein of Mondrian's art, anthracite grey handle channels are used to build a grid that frames all the drawer and door fascia. The vast expanses of grey are subsequently broken by the introduction of rectangles of bright colours in spice tones that create a new equilibrium.
What Houzz users are commenting on:
Laura added this to Westminster
11 February 2023
same color I have now. Not that I want that...
HU-601271874 added this to CAB Ideas
15 May 2022
Colours, two ovens, picture windows, island. Would like seating around the island and not too sure about the red?
Kitchens with Similar Colours